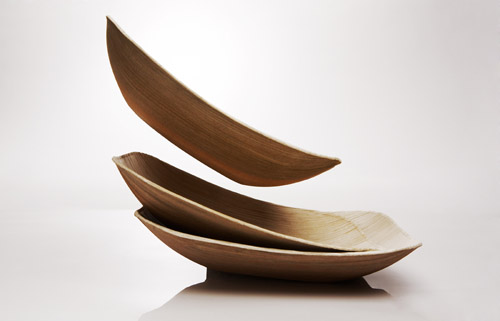 Not only is VerTerra's dinnerware all natural, it's biodegradable and compostable, too!
The holidays are coming fast, and that means you've probably got some shindigs in the works! Sometimes, especially with a lengthy guest list, it's just so much easier to use disposable dinnerware rather than deal with a mountain of dirty dishes at the end of the night. VerTerra wants you to toss those plates, bowls, and serving trays while feeling guilt-free!


Company founder Michael Dwok describes his experience that launched the company:
VerTerra was born from the most simple and unexpected encounter.

As my car bumped its way down a dirt road in rural India, I saw a woman soaking leaves in water, then pressing them in a crude waffle iron. She pulled out what looked like a plate and served food on it.

To this day, I can't remember what I ate, but that simple organic plate started me on a journey to refine what I saw that day into a stylish, durable and truly environmentally-friendly line of single-use dinnerware.

Our mission is to help make a difference in the world, one party at a time.
They make their dishes out of fallen palm leaves and water using a process that takes 90% less energy than recycling paper, and they recapture 84% of water used in their production. VerTerra's dishware is certified compostable by The Biodegradable Products Institute and when your party is over, you can just toss your dishes right into the compost bin!
Depending on what you served, you may need to scrape any leftover food into the trash – there are some food items that don't fare well in the compost bin.
If you want to give VerTerra dinnerware a try, you can check out their online shop. You can also give these dishes a whirl at the Statue of Liberty, where they use VerTerra for concessions!
Image Credit: Photos courtesy of Verterra. Food photo by Theodore Samuels for photography, Silkstone Events.