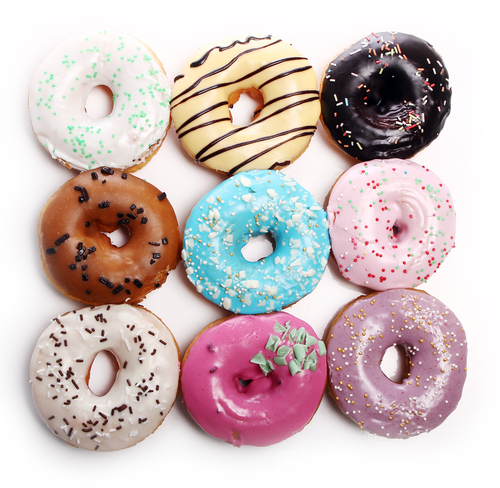 Earlier this month, Dunkin' Donuts and Baskin-Robbins issued a 2015 Corporate Social Responsibility Report which pledged to improve their company's fast food nutrition. Will it matter?
The May 7th Dunkin' Brands Group, Inc.'s Corporate Social Responsibility Report [pdf] report made some significant pledges with its vow to improve the fast food nutrition in their menu of offerings. The big news is that by the end of 2015 the ice cream and donut giant will roll out new guidelines for lower calorie, sugar, sodium and saturated fat thresholds. Tagged as "better-for-you choices," the company committed to reduce the sodium content across its U.S. menu by 10% by the end of 2015, and to reduce the sugar content in its U.S. beverage portfolio by the end of 2017. Baskin-Robbins will also test new smoothies with a reduced amount of sugar and calories in the U.S. in 2015.
Sugar
Okay, we are talking about a donut and ice cream company.  So, reducing the sugar in their donuts and ice cream is a significant goal for Dunkin' Brands. I mean, they are in the sugar business.  But, Dunkin' Brand products are even considered high within their own categories.  In other words, they are really and relatively high in sugar. For example, one large (32 oz.) Baskin Robbins Chocolate Chip Cookie Dough Shake has 1,600 calories, 72 g fat (46 g saturated), 181 g sugars. As TodayHealth.com points out in the post, "Eat This, Not That: The worst summer drinks," the Baskin Robbins Chocolate Chip Cookie Dough Shake is the calorie equivalent of 8.5 Krispy Kreme Donuts (but how many Dunkin' Donuts?)
TodayHealth.com goes on to note:
Each scoop of Baskin-Robbins Chocolate Chip Cookie Dough ice cream contains 300 calories, firmly placing it among the worst ice creams in the country and helping to explain this shake's egregious calorie count. But even built from a more moderate scoop, 32 ounces of any shake would be problematic—that's not one dessert, it's four! Most disturbing of all, this chemical concoction contains no fewer than 40 ingredients.
So, while I applaud Dunkin' Brands for taking on the amount of sugar in its products, I'm guessing there is a lot of sugar to cut. Maybe consumers won't even notice.
Sodium
A 10% reduction in sodium across the board also sounds like good news. Especially since Harvard University Health News reports that sodium is still quite high in fast food nutrition and processed foods. They note that researchers with the Center for Science in the Public Interest (CSPI) in Washington, DC, evaluated the sodium in 78 foods served at fast food and chain restaurants between 2005 and 2011, collecting nutritional information from the company websites. What did they find? Despite lots of chatter from restaurants about reducing sodium in their menus, the average sodium in chain restaurant items increased 2.6% between 2005 and 2011.
Like most fast food chains, Dunkin Brands could stand for some sodium reduction. The Dunkin' Donuts' Salt Bagel contains a whopping 3,350 mg of sodium and 310 calories.
According to MayoClinic.com, the safe upper limit for sodium consumption is between 1,500 milligrams and 2,300 milligrams per day.
It should be noted that the Dunkin' Brands Corporate Social Sustainability Report pledges more than fast food nutrition reform. It also outlined new goals regarding sustainable buildings, sourcing and packaging and additional efforts to serve local neighborhoods through hunger relief, children's health and safety initiatives.
But, the question remains, is a 10% reduction in sodium and a pledge to reduce sugar by an unspecified amount really going to improve fast food nutrition? Or is it just good PR?
Photo: Shutterstock.com