Editor's note: We are thrilled to welcome Jill Ettinger from Eco Salon and Organic Authority to the Eat Drink Better team! Jill is an outstanding writer with a great eye for important food news. Welcome to Eat Drink Better, Jill!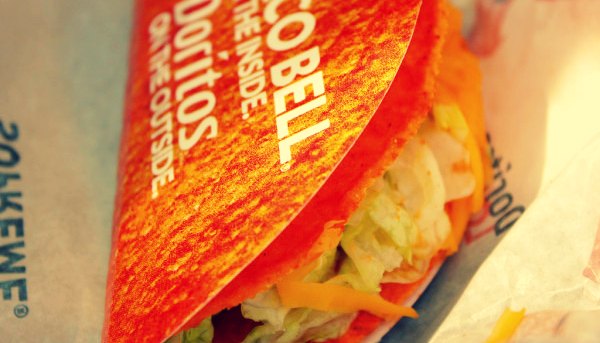 With both diet and regular soda sales slumping, it's no surprise that Pepsico is looking at ways to capitalize on its other offerings. And it appears that its Frito-Lay division's Doritos snacks may be the next terrible food trend. And it's not one of the healthy restaurant trends that Mary talked about last month.
The Story of Doritos Domination
Longtime leader in the chip category, Doritos has led the category with its flavored tortilla chips, but credit the crazy successful partnership with Taco Bell on the Doritos Locos Tacos frenzy for Pepsico's renewed interest in the tortilla chip brand. Sales of the Doritos Taco Bell taco shells surpassed $1 billion last October, with Taco Bell selling more than one million of the tacos per day—and that was before Colorado legalized recreational marijuana use, mind you.
The Doritos taco shells brought Taco Bell so much success that the chain had to bring on 15,000 new employees just to handle the production of the proprietary Doritos shells. They even added a Cool Ranch flavor, and now Taco Bell is looking to expand—adding as many as 2,000 new restaurants over the next ten years simply because of the success generated by the Doritos relationship, Greg Creed, chief executive officer of Taco Bell told the AP.
[W]hat we have is proprietary and exclusive. Nobody else can make a Cool Ranch Doritos taco.
You got us there.
So of course it's no surprise that Pepsico is looking at other ways to capitalize on its crunchy, nacho-y-coated cash chip.  The Daily Mail reports:
Since the enormous boon, Pepsico has been eager to dream up other restaurant dishes featuring the popular snack.
And it's not just Pepsico that's looking to capitalize on these food trends. Brands like Pizza Hut and Buffalo Wild Wings are exploring how they might be able to incorporate Doritos (and other Pepsico-branded flavors) into their offerings. According to the Daily Mail, Buffalo Wild Wings envisions Doritos as "a cheesy topping for deep fried, saucy wings or tenders or even on a side of fried potatoes." Because, of course, you need salty, fried chips as a side to salty, fried potatoes. At least you do in a Doritos-flavored universe.
Image: Ashley Elizabeth Artist