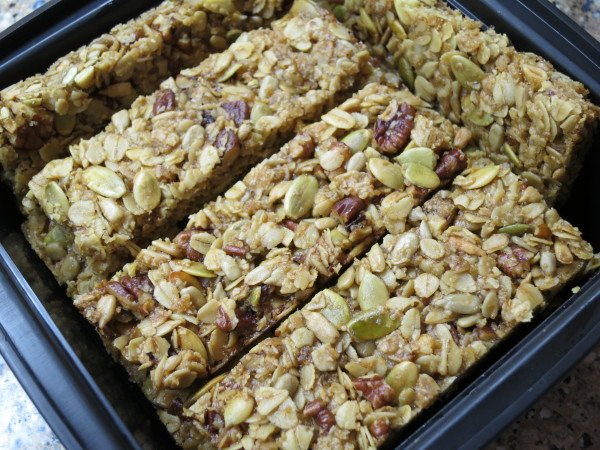 I write with a crew that inspires me to make more informed — and more interesting — decisions about what I eat.
Consider Heather, for example. She dove into October Unprocessed with gusto. (The annual October Unprocessed challenge encourages folks to avoid processed foods for a month. Yes — a whole month. That includes halloween, no less!) Heather's unprocessed journey and her vision of eating suitable granola bars inspired me to give something new a try: I made granola bars from scratch.
I'm not a big granola girl. Don't much like cereal (or breakfast in general). And granola bars from a cardboard box taste like — well — cardboard. But breakfast is my most difficult meal, and now I'm traveling two out of every three weeks, making it more challenging to eat a good start-your-day meal.
I also just bought a new DIY cookbook from the folks at America's Test Kitchen. Page 230: Granola bars. I adapted their recipe slightly. The result? Snap! Fresh, crisp, crunchy, not-too-sweet granola delights. I love them.
If you think you don't like granola bars, make them from scratch. Seriously.
Homemade Granola Bars
(Adapted from The America's Test Kitchen Do-It-Yourself Cookbook)
Ingredients
1/3 cup

maple syrup

1/4 cup packed

light brown sugar

3/4 teaspoon

sea salt

1/2 cup

extra virgin olive oil

2 cups old-fashioned

rolled oats

1/2 cup

pecans, chopped fine

1/2 cup raw

pepitas

1/2 cup

raw sunflower seeds
Instructions
Heat oven to 300 degrees. Line a 13 by 9-inch baking sheet with foil or parchment paper.
Whisk maple syrup, brown sugar, and salt in a large bowl. Whisk in olive oil.
Process 1/2 cup oats in a food processor until finely ground, 30 to 40 seconds. Transfer to the bowl with the maple syrup mixture, along with the remaining ingredients.
Stir until the ingredients are evenly coated.
Transfer the mixture to the prepared pan, spread in an even layer, and use a spatula to even out and compress the granola.
Bake for 45 minutes, rotating midway, until the granola bars are deeply golden.
Let the granola cool for 15 minutes, then cut into 16 bars. Let cool to room temperature (about an hour) and recut if needed.
Bars can be kept in an airtight container at room temperature for about a week.
My first go at homemade granola bars made me: 1) want more and 2) consider possible variations. (Choose your nuts and grains. Substitute honey or peanut butter for syrup. Throw in flaxseeds or chia seeds.) I was also surprised at how easy it is to make your own bars and how much better they taste than anything you can buy at the store.
Heather replied to a comment on one of her October Unprocessed posts to say: "I agree with you about the effect of processed foods on how I feel. I ran out of homemade granola earlier this week, so this morning I grabbed one of my old commercially made granola bars. It just wasn't as good. I wish I had taken a minute to make my own granola."
We often assume that what we know is all that exists. But when it comes to granola bars, you have a choice — and it's a pretty easy one! Take some time to make your own. You (and your body) will be glad you did.
Have you made your own granola? What are your favorite ingredients? What do you think sets yours apart from those in the supermarket cardboard box?
Image Credit: Mary Gerush