It seems every week there is a new superfood or eating plan that tops the rest in health benefits. And the next week there are several people saying why it is not so great. What really are the healthiest foods for you?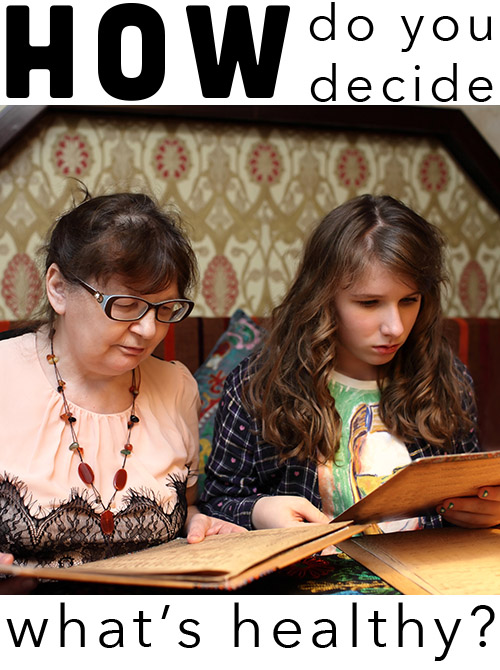 I came across this post recently contemplating which are the healthiest foods. What can you believe? Are these health foods healthy or not?
I'm thinking that you have to decide for yourself. And I don't just mean make up your own mind. I mean decide for your self.
We all have different body types, constitutions, likes and dislikes, and needs. Throw our varied lifestyles into the mix and it is a wonder anyone ever thought one eating plan would work for the masses.
I've equated this system of design to my beauty readers for years. You have to look at your own skin type, its individual needs, and your desires in order to purchase products that you will like and are effective for your skin.
The same rule applies to foods. My husband can live comfortably down tons of coffee and loads of nuts each and every day of his life. I would be a frenzied dervish of bad energy with a gut problem. I also have to eat more often than he does because our metabolisms are very different.
Related: What is Tailored Juicing?
Do you ever follow the same diet as a friend, only to have hugely different results? That is because you are each unique people who are set up differently. Not the same body types or needs. Sure, you may not be able to achieve stick-thin on the foods that are healthiest for your body. But you also won't have to feel like a complete wreckage.
After many years of researching diets, from healthy to not so much, I've discovered only one thing to be true across the board; you have to eat what works for YOU. Your body knows what that is. Listen to it.
Here are some questions to ask yourself as you try to discover the healthiest foods for you:
+ How does eating this food make me feel while I'm eating it?
+How does this food make me feel 30 minutes to two hours after eating it?
+ Am I trying to eat my feelings?
+ Does this food align with my ethics?
I'd love to hear from you, too! What lessons have you learned on the road to eating well? Are there foods considered incredibly healthy that aren't the healthiest foods for you? Tell us all about your food journey in the comments!
Image Credit: Reading the Menu photo via Shutterstock