Urban agriculture can take many forms, and in Detroit a new sustainable urban agrihood program has just launched to support accessibility and affordability of good food for the community. The Detroit Urban Agrihood is the first of its kind in the U.S.!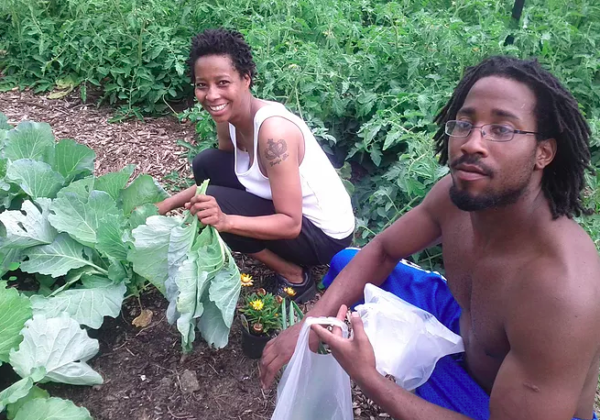 Detroit Urban Agrihood Brings Food, Grow Community
This happy news from my hometown of Detroit was announced on November 30 of this year. The project has been launched by the Michigan Urban Farming Initiative (MUFI), which works to promote all forms of sustainable, urban agriculture, ensuring that 'agriculture [is] the centerpiece of a mixed-use urban development.'
Food Revolution explains that "'agrihoods' help to tackle food insecurity and other community problems [making it easier] for people in low-income neighborhoods to get fresh, healthy food. And they give people a connection with the food they eat, the earth, and each other."
There are more than 200 agrihoods under development in the United States – although this is the first one in a fully urban community.
The project is more than a farm. Food Revolution explains more about the project: "The three-acre development has vacant land, along with occupied and abandoned homes centered around a two-acre urban garden, with more than 300 organic vegetable varieties, like lettuce, kale, and carrots, as well as a 200-tree fruit orchard, with apples, pears, plums, and cherries, a children's sensory garden, and more." This will help provide free food the the low-income residents near the farm, along with supplying local markets, restaurants, and food pantries. And they are giving away a lot of vegetables: their press release says that since the 2012 growing season, MUFI has distributed more than 50,000 pounds of free produce.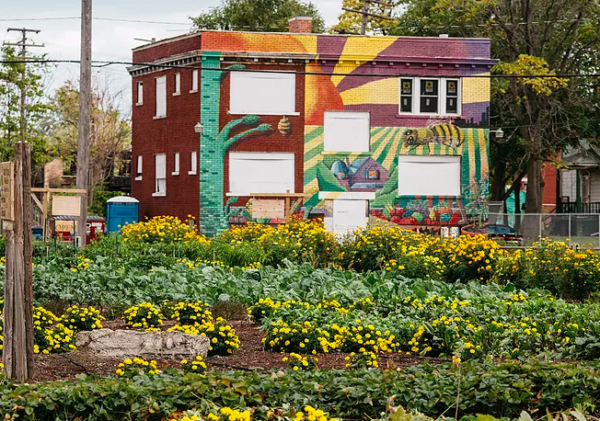 Many Ways to Support Urban Agriculture
In addition to the Detroit urban agrihood, the MUFI is working on the following projects:
Turning a long-vacant building into a community resource center, which will offer educational programs, event and meeting space for the neighborhood, a nonprofit incubator, and two commercial kitchens
Developing a healthy food cafe, and
Restoring a home into student intern housing and an off-grid shipping container.
Other projects to make the place more sustainable include:
Installing solar panels,
Converting a basement into a water harvesting cistern that will automatically irrigate the garden
A public composting toilet, and
A retention pond made from the foundation of a blighted home to supply the farm with water
Why is urban farming so important for a sustainable future?
Community gardens are great for residents of all communities, but they are especially important in lower-income areas that are often lacking in access to fresh, affordable food in a situation known as food deserts. Detroit, a city that's seen an array of challenges over the past few years (rapid depopulation in the 1960's and 70's and now a boom in real estate that's driving up costs), is actually a leading example of how urban farming can transform a community.
There are dozens of urban farming projects in Detroit that are setting an excellent example for all cities to follow.
Interestingly though, as the city starts to revitalize, land is getting harder to afford, especially for black residents, who make up 83% of the city's population. As PRI reports, "bureaucratic obstacles, a historically dysfunctional city government and land speculators keep would-be farmers in Detroit from easily purchasing the abundance of neighborhood plots in Detroit's so-called prime neighborhoods," leaving some residents to believe that owning land in the city is now impossible.
While PRI explains that various efforts are in place to speed along land purchases, it's still a process that is holding back Detroit from being a true leader in urban agriculture. Hopefully efforts of groups like MUFI will continue to expand urban agriculture initiatives, and serve as a model for other cities as they grow.
Images from Michigan Urban Farming Initiative; video from Curbed