Denmark's organic movement is growing like gangbusters. Here's why that's important and why it's good for people's health and food security in Denmark.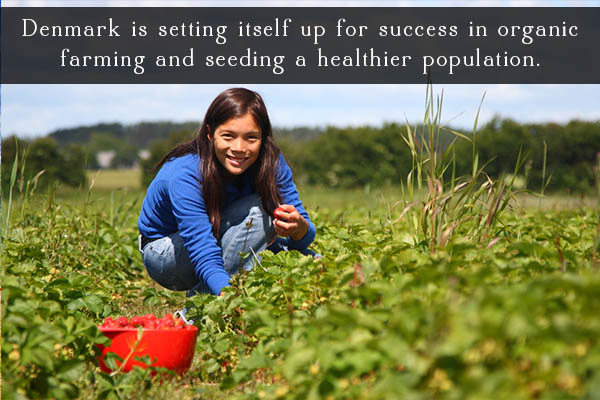 Last fall we talked about Bhutan's pledge to go fully organic, and now it seems Denmark is following their lead! Food Revolution reported last week that Denmark has created a plan to double organic farming and to serve more organic food throughout public institutions by 2020. Despite its small size, Denmark is a world leader when it comes to organic agriculture and organic food consumption. The United States has only about 1% of total agriculture devoted to organic agriculture while Denmark has over 7% of farmland fully organic or in transition.
According to Food Revolution Denmark's organic exports have increased by 200% since 2007. Author Lindsay Oberst says that federal agricultural lands will use organic and biodynamic methods only and will support and finance research and development into new technologies and ideas to improve organics in the country.
The other goal of the plan is to increase the consumption of organic foods, an area where Denmark already leads the world. The Copenhagen Visitor's Bureau states that, "Denmark experienced a growth in organic food sales from 7, 6% in 2012 to 8% in 2013, and organic food export rose by 31%, setting a record for the eighth year in a row." Plans include increasing the amount of organic food served by the government to the public to 60% in schools, hospitals and cafeterias.
Denmark is setting itself up for success in organic farming and seeding a healthier population. Other aspects of the plan include converting many of the areas it manages into organic farming and teaching children and teens about the importance of organic farming in school, in addition to increased nutrition education.
As we wrote about in our post about Bhutan, organic foods reduce the amount of pesticides in the environment, but also in our bodies. You might worry that organic farming can't feed the world, but that's a myth fueled by biotech's marketing dollars. Large-scale studies have shown that organic farms have higher yields than conventional farms, when compared acre to acre.  Organic farms also drastically improve the climate: healthy soil is a huge carbon sink, and a humus-rich soil allows atmospheric carbon to be absorbed at a rate much higher than conventional, nutritionally-deficient soils. Healthier soil grows healthier plants, which then absorb more carbon and allowed for even healthier production.
Organic farm in Denmark photo via Shutterstock