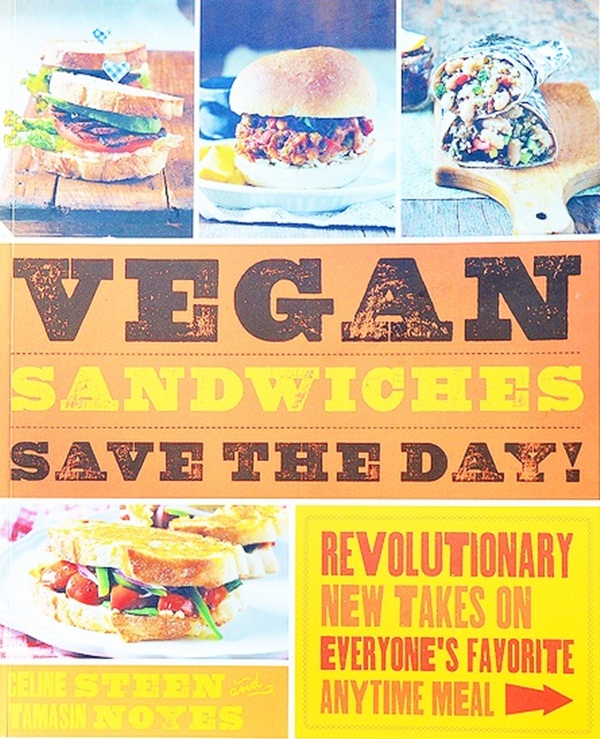 If you only think of peanut butter and jelly when you hear 'vegan sandwich,' it's time to expand your horizons: Vegan Sandwiches Save the Day offers a smorgasbord of deliciously creative recipes, destined to forever revolutionize your approach to the (not so) humble sandwich! Enter our giveaway contest to win your own copy; then try these amazing recipes for Green Monster Bread and the Almighty BLT, for a sneak-peek at just how tasty vegan sandwiches can be. Your lunchbox — and your belly — will thank you!
Quick Review
Vegan Sandwiches Saves the Day offers much more diversity than I expected, and has forever broadened my definition of 'sandwich'!
Chapters include Rise and 'Wich (breakfast sammies), Going Topless ("bread at the bottom, filling on top: rated R for Ravenous!"), Keep it Cool (chilled make-ahead sandwiches), Classics and Deli Delights (olde-tyme lunch counter flashbacks, vegan-style), Bold New Ground (adventurous international flavors, to take you boldly where no sandwich has taken you before!), and Sweetness Follows (sandwich-style desserts, such as the indulgent Oreo Wafflewich).
There's also a good chapter on Building Blocks: staple recipes for fine sandwich-building, such as brioche, moo-free seitan, no-cluck cutlets, gobbler slices, and tempeh bacon (see next page for recipe).
There are some fairly simple recipes, but many aren't necessarily 'busy weeknight' cooking. The results are consistently excellent, though, so both simple and sophisticated recipes are well worth exploring. I live in a 'grocery challenged' area, deep in the rural delta, so there were a few ingredients utilized in VSSD recipes that aren't locally available to me: maca powder, jackfruit, soy flour, and chickpea flour, for example. Luckily in the digital age that's an irrelevant issue, easily solved with a bit of advance planning and online shopping!
VSSD provides consistently delicious results and delightfully creative recipes, for any meal of the day. Some of my favorites include:
Green Monster Bread (see next page for recipe)
Berry-Stuffed French Toast Pockets
Shh-ocolate Spread Panini
Blueberry and Corn Pancake Sandwiches with Lemony Filling
Onion Ring Ranchocado
'Shrooms on a Shingle
Puff Pastry Pot Pie Sandwiches
Deviled (Not) Egg Salad Sandwiches
Razz-elnut Spinach Sandwiches
Mango Basil Wraps
Strawberry Spinach Tacowich
One World Reuben
Almighty BLT (see next page for recipe)
Unfishwich
Out of Tuna Sandwich
Kati Rolls (spicy Indian wraps)
Jamaican Dip
Peanut Butter Brownie Sandwiches
I especially love the creativity with which authors approach their ingredients, successfully using combinations I'd never thought to try — for example combining raspberries, miso, shallot, and thyme for a delicious spread; or pureed white beans with melted chocolate, almond flavoring, and other ingredients for luscious eat-it-with-a-spoon creamy chocolate bliss!
If you're looking for ideas to elevate your vegan cooking to the next level of deliciousness; or you're an experienced cook but newly vegan; or you're an adventurous novice vegan cook: I predict you'll love Vegan Sandwiches Save the Day. It offers a bit more complexity and sophistication than other cookbooks I usually recommend for new veg cooks, but the consistently excellent results argue for its inclusion.
Though VSSD does offer some good basic recipes (such as seitan, bread, and many spreads and sauces), to me that's not its main strength: this cookbook really shines in its ability to make the common sandwich an exceptional event, and to revel in indulgently delicious vegan fare.
VSSD offers tremendous diversity of flavors and cooking styles, plus consistently delicious results. In short, I recommend it!
The Scoop
VSSD is a collaborative project by vegan chefs Tamasin Noyes and Celine Steen. It's the first time they've worked together on a cookbook project, but won't be the last! They've just finished just finished writing a second book called Whole Grain Vegan Baking, due for release by Fair Winds Press in spring of 2013.
Question: If someone's just starting with VSSD, do you have particular favorites for 'first sandwich,' or 'must try at once!' recipes, from the book?

Tami: I'd give you a different answer to that question every day. Today I'd say the Asian Eggplant Sandwich. It combines a few fresh ingredients with items you've got in the cupboard to make an amazing sandwich. If I'm packing a lunch, I'd opt for the North End Grinder. And if I didn't have the cold cuts in the freezer, I'd just use store-bought.

Celine: I think that if folks have the time to start by making their own bread, even if they happen to be a little afraid of working with yeast, whipping up a loaf of Green Monster Bread would be great. But store-bought bread is just fine, too, no worries! I would recommend the Almighty BLT as a first sandwich, because it's so easy and quick to prepare, while being quite satisfying. And for anyone would still be skeptical of vegan food, it is also solid proof that going vegan doesn't mean having to wave goodbye to basic old favorites.

Question: Can you give an overview of some of the lesser-known ingredients used in VSSD recipes, and what they bring to a recipe? I was delighted by the opportunity to cook with a few ingredients I hadn't used before, such as jackfruit; what ingredients should readers expect to get acquainted with in VSSD, that maybe aren't familiar to new (or newly vegan) cooks?

Celine: I rarely manage to find jackfruit in town, so I was thrilled to finally get my hands on a few cans of the stuff, in order to work on the carnitas sandwich recipe. The jackfruit is marinated to perfection, and has a super meaty texture, that pairs up nicely with the chili crème and avocado spread. We've also used creamed coconut in the book, which might be a little more unusual, but still relatively easy to find. It seems to be just a little more subdued in flavor than regular coconut milk, so we like using it for its richness, creaminess, and slight buttery flavor, without having it take over all the other flavors too much.

Tami: Almost all of us struggle to find ingredients. We didn't want people to have to go to extreme measures to make the recipes in our book. But another sometimes hard-to-find ingredient might be the Soy Wraps for the Sushi Soy Wraps. I can find them at my local chain grocery store and also the nearest Whole Foods. But if not, I encourage people to order a few packs on line. Because we're not fans of nori, these wraps are our go-to for sushi, too.
Find more ideas from these authors at havecakewilltravel and veganappetite.
Win a Copy of VSSD, for Your Own Sweet Sandwich-Loving Self!
To enter:
Leave a comment about your favorite vegan sandwich or sandwich ingredient.
Follow Eat Drink Better on Facebook, Twitter, or Pinterest. If you already follow us, that counts, too! Just let us know in a comment.
Sign up for the Eat Drink Better weekly newsletter.
Enter as often as you like, as long as each comment is different. The winner will be chosen randomly from all responses, so each entry improves your odds!
This contest is open to sandwich chefs in the U.S. or Canada only.
Get your entries in by 5:00 p.m. Central time on Sunday, November 25. We'll announce the winner on Monday, November 26.
Can't wait? No problem: we'll get you started with some scrumptious recipes to delight your inner vegan-sandwich-loving child, while you wait for your prize!
Next page>> Recipes from Vegan Sandwiches Save the Day: Almighty BLT, Tempeh Bacon, and Green Monster Bread!