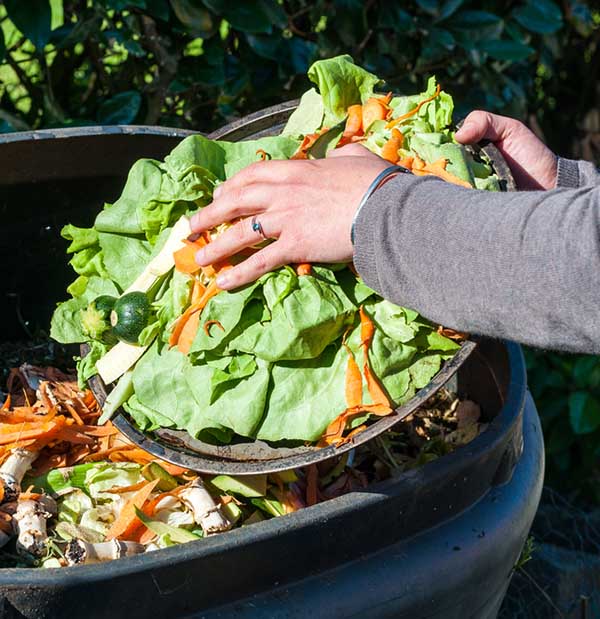 Is composting food waste the end all solution to our food waste problem? It's complicated.
Over at our sister site Sustainablog, Jeff McIntire-Strasburg wrote a thoughtful piece about composting food waste. He looks at the big picture and makes some compelling points about our priorities when it comes to wasting food.
Related Reading: Composting Year-Round, 7 Ways to Reduce Food Waste at Home
Jeff argues that composting should be our second choice. So, what should be our first? His salient point is that our first step before composting food waste is creating less of it in the first place. It's a simple concept that's complex in practice. Check out his whole article below!
Composting at Schools: Does it Really Address the Issue of Food Waste?
by Jeff McIntire Strasburg, Sustainablog
I'm a die-hard composter myself – just ask my wife what happens when she throws scraps in the garbage – and, as long-time readers know, I'm a fan of the concept at both small and large scales. While I realize some will argue for some form of biogas production as a preferable alternative, I know that such options just aren't available everywhere – and, in many of those cases, the leftover material still sits in a landfill. So, you'd expect that when I come across an article like this one from today's New York Times, I'd probably be cheering… right?
No… not this time.
See, as much as I love composting food waste, and think its a very viable alternative for the food waste produced when preparing food for eating, I don't necessarily like it as a solution for the waste of otherwise edible food. Yes, I definitely think composting is preferable to sending it to a landfill… but that doesn't make it the solution to the actual problem at hand. Truthfully, I grimaced pretty hard at the thought of those kids pitching perfectly good bananas in this article's first two paragraphs. We're still wasting food… composting it is a second-best alternative.
So, if Composting Food Waste Isn't the Answer, What Is?
"So, c'mon, smart guy: how do you make kids eat everything they're served?" That's a perfectly viable response here, and I don't have a perfectly viable answer – kids are kids, and often don't like things. I also know that logistics are an issue in school cafeterias: there are lots of kids to feed, so uniform meals not only insure that children are receiving nutritionally-balanced meals (well, at least, we hope), but that all kids are getting those meals in a timely fashion.  I'd argue for more of a buffet-style set-up, where kids can choose what they'd like, but I'm guessing that would not only wreck the lunchroom logistics, but also create… wait for it… lots of food waste: many kids will want the same things.
I'd love to hear about success stories on this front: how has your child's school addressed the issue of food waste (which isn't just an environmental issue – that's also money going to the landfill!). Maybe composting food waste is the only really viable solution… but, boy, I just hate seeing all of that food go uneaten…
Image Credit: Compost photo via Shutterstock