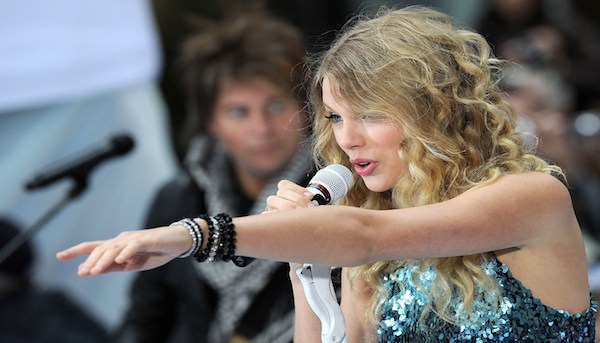 Seven-time Grammy Award winner, singer and songwriter Taylor Swift, is lending her celebrity star power to Coca-Cola, in order to help boost sales for Diet Coke to a younger audience demographic. Swift is participating in the new "Get A Taste" promotion, which Coca-Cola is targeting at American youth whose consumption of soda products has decreased in recent years.
The "Get A Taste" campaign poses the bizarre and unanswerable question: "What if life tasted as good as Diet Coke?" According to MarketWatch, "The integrated campaign showcases the unique, delicious taste of Diet Coke by taking mundane moments and making them a bit brighter, bubblier, and a whole lot more enjoyable – just like a Diet Coke. As part of the campaign, Taylor will encourage fans to 'Get A Taste' of the world they love."
Earlier this year, Coca-Cola released Taylor Swift-designed cans of Diet Coke, and now, Swift will appear in a "Get A Taste" commercial, featuring a previously unreleased clip of one of her newest songs on the forthcoming album "1989" due out on October 27th. The clip will not be available anywhere else, holding Taylor Swift fans in a sort of ransom situation—they're forced to visit the Diet Coke campaign in order to hear the music, and then while they're there, Coca-Cola will work its marketing magic and hopefully enlist new Diet Coke devotees. "Throughout October, [Swift] will grant Diet Coke fans a behind-the-scenes look at the ongoing 'Get A Taste' campaign via digital and social media exclusives," reports MarketWatch.
Swift is a primary demographic target for Coca-Cola mainly because of declining soda sales. Not only are sales of the sugary diabetes- and obesity-causing HFCS-laden drinks down, but sales of diet sodas are also dwindling as well. The timing couldn't be worse, either, as recent research revealed that artificial sweeteners, such as aspartame found in Diet Coke, can actually contribute to weight gain and glucose intolerance. According the research, artificial sweeteners appear to be changing the behavior of certain gut microbes and how they work in tandem with processing sugars.
Taylor Swift image via Shutterstock