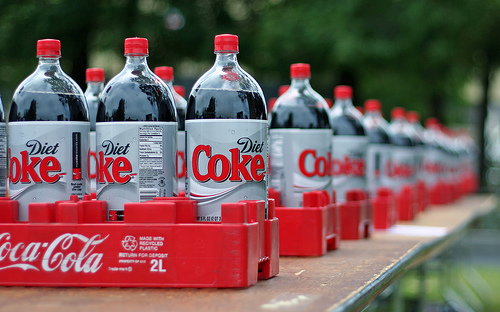 Its almost laughable that Coca-Cola would try to use a 'healthy and natural' marketing tactic, but that's what they did. Consumers are fighting back.
According to Courthouse New Service, Coca-Cola is being sued for misleading consumers by falsely claiming that Coke contains no artificial flavors and is part of a kid's healthy diet. OMG.
Its hard to believe but the Coca-Cola Company actually used the 'healthy and  natural' marketing tactic to sell Coca-Cola and other clearly unhealthy and unnatural beverages, but that's what they did. And consumers are fighting back. Not long ago Coca-Cola was sued over Vitamin Water's bogus 'healthy' marketing claims. During that lawsuit, Coke's own lawyers stated that 'no reasonable consumer' would ever believe such marketing about Vitamin Water. Is that going to be their defense of Coca-Cola's marketing? That actually makes sense.
That said, as the list of false 'natural' advertising class action lawsuits grows larger, Coca-Cola may be the most deserving target yet.
The lawsuit is predicated on the fact that all cans of Coke sold in the United States either falsely states that it does not contain artificial flavoring, or fails to affirmatively state that it contains artificial flavoring, as required by state and federal law.  The complaint begins with this self-evident statement:
Faced with clear evidence that it was losing market share because consumers increasingly preferred beverages without artificial flavoring and chemical preservatives, The Coca-Cola Company, owner of the brand, responded not by providing consumers with what they wanted — a natural and healthy drink — but by deceiving them into thinking that Coca-Cola was natural and healthy when in fact it contained artificial flavoring and chemical preservatives.
Coke contains phosphoric acid, an artificial flavoring, but its labels claimed it had contained no artificial flavoring "since 1886." Coke ads also stated that the beverage was made with the "original formula," devised in 1886, when in fact "the composition of Coca-Cola has repeatedly changed over time. These changes have included, among other things, an increase in the amount of unhealthy ingredients like sugar and corn syrup and the addition of artificial ingredients like phosphoric acid."
The Coca-Cola corporate website goes as far as directing consumers to the website of The Coca-Cola Company Beverage Institute for Health & Wellness, which portrays Coca-Cola products, including Coca-Cola soda, as an integral part of a healthy diet and an excellent means of maintaining proper hydration.
Consumers are seeking punitive damages for fraud, violation of the Illinois Food, Drug and Cosmetic Act, breach of implied warranty, negligence and unjust enrichment.
Photo: Shutterstock