In the developing world, cooking over open flames causes serious pollution-related health problems. These clean cookstoves could change that.
Clean cookstoves can mean the difference between life and death for people who use indoor wood cooking fires. According to our sister site, Sustainablog, "more people die from respiratory diseases brought on by cooking smoke than from HIV/AIDS or malaria." Clean cookstoves let folks keep cooking indoors without the dangerous indoor air pollution.
Related: Rocket Stoves Change Lives with Efficient Cooking
A new line of clean cookstoves from Energant – the K2 – burn clean even when users put up to eight percent plastic into the mix of materials. That's huge, since folks are burning plastic now with no safety measures in place. In fact, in areas where open cooking fires are common practice, they double as trash disposal. That includes burning food waste and plastic trash.
Not only can the K2 provide a safer way for folks without electricity to cook indoors, but it can convert heat into electricity and provide heat for their homes.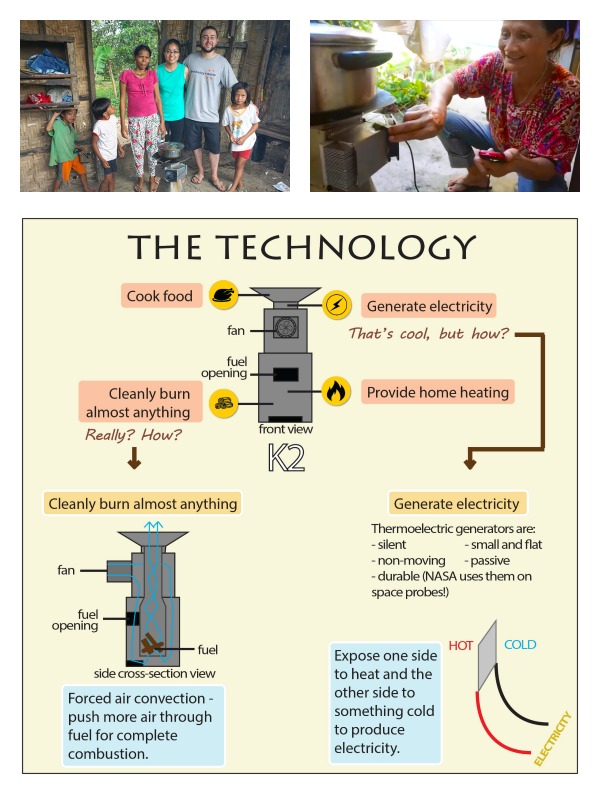 Help Get These Clean Cookstoves to Market
Energant was started by "a passionate team of students and engineers at the University of California, Berkeley." They wanted to use technology to change lives, and they wanted to do it in a way that was affordable for the people who need it.
Sustainablog explains, "the team chose materials based on costs of production in poor areas of the world so the K2 could serve economic needs, too." They were initially planning to release the clean cookstoves in The Philippines, but the cost was going to be too high. Instead, "Energant has set its sights on the Chinese market, where the government supports the development of such appropriate technologies."
If you want to help Energant get its clean cookstoves to market, you can help fund additional testing they need to complete. Head over to their Indiegogo campaign page to help them out.