Get ready to drool over the delicious vegan offerings at San Francisco's Citizen Fox, and get the deets on their coming-soon permanent location!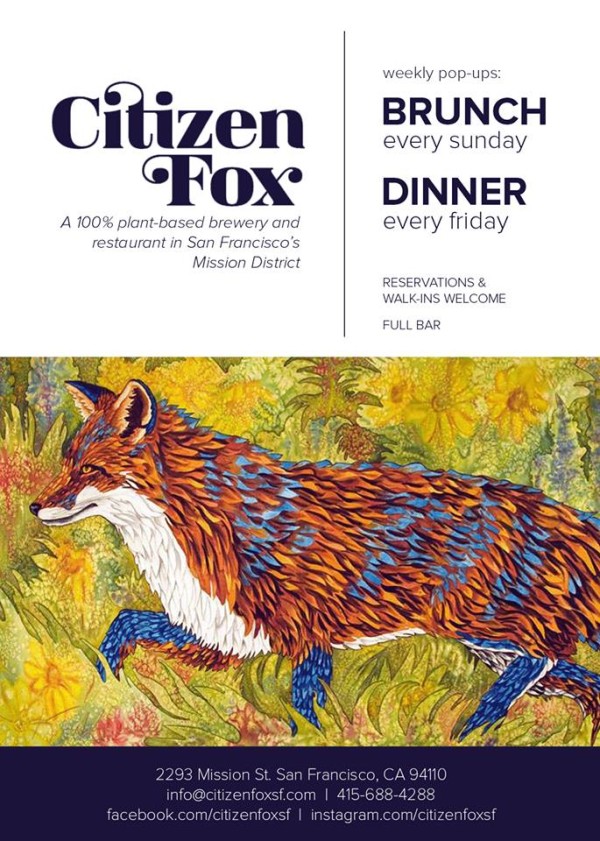 I was lucky enough to spend a good portion of 2015 in San Francisco, one of the notable foodie capitals of the US, and one of the best spots in the US for amazing vegan cuisine.
Vegan and vegetarian restaurants abound in the City by the Bay, and it's long been considered one of the best cities in the world for vegetarian and vegan options. We found no shortage of amazing foods, literally on every corner. But one of the favorite finds of the summer was a little pop-up making a big name for itself in the Mission.
Citizen Fox, a fully vegan concept, is currently serving brunch and dinners on select days until their permanent location opens in late 2016. Check back often to see their weekly eating opportunities and potential special events, like Valentine's Dinners and New Year's Eve Celebrations.
I had the chance to dine at Citizen Fox for both brunch and dinner. Our brunch happened on a beautifully sunny day that started with yoga in Dolores Park, and then we feasted like never before. The prix fixe brunch menu came with brunch appetizers (new concept to me!), the meal, and a dessert (also new to me!). Needless to say, we left with full bellies and leftovers for days.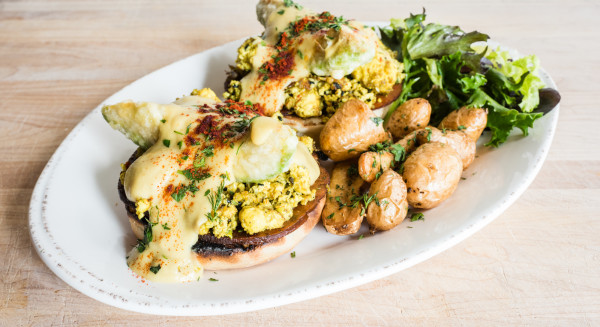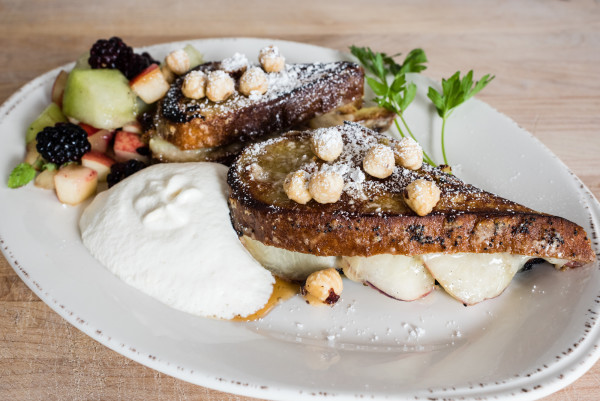 We enjoyed an Avocado Benedict served with roasted potatoes, (shown above) a Vegan Chicken and Waffles dish, and I enjoyed the famed Peach French Toast (shown above). All were delicious, filling, and could have easily been shared by many friends. Citizen Fox also offers coffees and mixed drinks to start your day in two very different ways.
A few weeks later I was able to take a crew of vegan babes to the pop-up location again, and this time there was some rosé… so my memory of the dinner is admittedly a little fuzzy! I do know that we loved the appetizers, salads, and meals that we shared, and each item received rave reviews from the veg-heads at the table.
As I look forward to another few months in the Bay Area, Citizen Fox is pretty high on my list of things to do immediately when we're back in town.
Currently, they are serving dinners on Wednesday through Saturday and brunch on Sunday at their temporary location at 2293 Mission Street. They will continue to cook up good eats there until the permanent location at 2205 Mission (at Mission and 18th St) is ready to go. The official opening date is slated for late 2016. Once they open their new location, you can expect a larger menu, an in-house brewery, and more delicious cocktails from their bar.
Find an example dinner menu here, and an example brunch menu here. Find them online, on Facebook, and on Instagram. Be prepared to get hungry, regardless of your eating ethics.