Looking to get more chia seeds into your diet? We've got some chia recipes and resources for ya!
I know, when you think of chia seeds you probably picture those porous clay pots where you sprout funny chia heads, but chia seeds are more than a fun activity – they're a healthy addition to your diet! Chia seeds are tasty and versatile with many of the same health benefits as flax seeds. Unlike flax seeds, though, you don't have to grind them up to digest them.
Chia seeds are one of those fancypants "superfoods." They're packed with vitamins and minerals and are a great vegan source of omega 3 fatty acids. An ounce of chia seeds contains just 137 calories, 9 grams of fat, and a whopping 11 grams of dietary fiber!
10 Tasty Chia Recipes
If you're new to chia seeds, you may not know how to work them into your diet. Unlike flax seeds, you don't need to grind up chia seeds to get the health benefits, and I think chia seeds are generally way more versatile than flax. Here are some of the tasty ways to add chia to your diet:
1. Toss a couple of tablespoons into a smoothie.
2. Make chia and pine nut basil pesto!
3. Soak 2 tablespoons of chia seeds in 1 cup soy or almond milk for about an hour. The result is like a delicious, healthy tapioca pudding!
4. Make a chia citrus cooler.
5. Cook up some sauteed zucchini with toasted chia seeds.
6. Add a few tablespoons to a muffin or bread recipe.
7. Sprinkle them into your oatmeal.
8. Fix some banana chia seed pancakes.
9. Make a chia bubble tea! Mix up your favorite tea with a little bit of fruit juice, and stir in a tablespoon of chia seeds. Let them soak to plump them up, and bam! You've got chia boba.
10. Whip up a batch of chia seed granola.
You can also check out some chia seeds recipes that our readers have suggested in the past. YUM!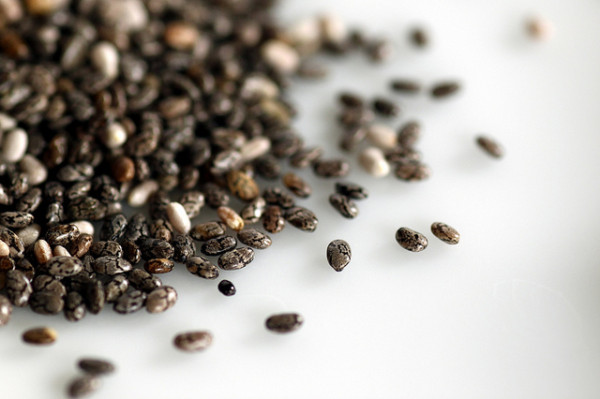 Where to Buy Chia Seeds
We've had a few readers write in lately asking where to buy chia seeds. There's actually a trick to shopping for these, because I've seen chia seeds marketed in two ways: as food and as a dietary supplement. The key to finding inexpensive chia seeds is to avoid them when they're marketed as a dietary supplement, if you can. In the supplement section of natural food stores, you'll find small bags with a hefty price tag. Here are some resources for buying chia seeds, from best option to worst from a price standpoint:
In the bulk bin. My local Whole Foods stocks chia seeds in bulk, and you might be able to find them at your

local food co-op

, too!
Online. Amazon carries a wide selection of chia seeds.

This 12 oz bag

should last you a long time.
The supplement section. If you can't find them anywhere else, you can find chia seeds sold as supplements either in the supplement section of a natural foods store or at vitamin stores, like GNC.
I'm sure I'm not the only one who loves chia seeds for the delicious factor and for the health benefits, so spill it! Where do you guys buy your chia seeds? What are your favorite chia recipes?
Image Credits: Chia Recipes photo via Shutterstock; Creative Commons Chia photo by Stacy Spencely