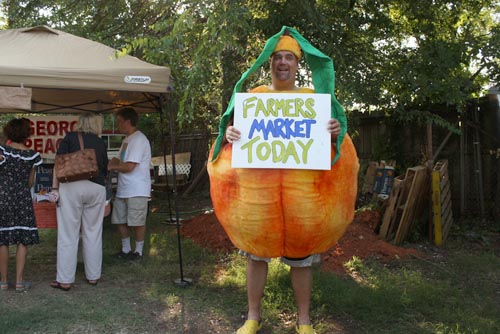 Slow Food Atlanta held the Peach Jam at the East Atlanta Village Farmers Market on Thursday, and I was lucky enough to hit up the event to celebrate Georgia's quintessential summer fruit!
It felt like everyone at this neighborhood farmers market was getting into the peachy goodness. Vendors were selling peach-inspired offerings from peach popsicles to peach foccacia to peach BBQ boiled peanuts. What a delicious way to get people excited about local food!
Have you been to any fun events at your local farmers market? I'd love to hear your experiences in the comments!
The highlight of the Peach Jam was the peach cocktail mix-off. Bartenders from around the city arrived with ingredients in hand and no idea what sort of booze they were going to be given. The cocktails ranged from more usual combos, like peach and blueberry with tequila, to the completely outrageous. The Iberian Pig's bartender created a savory concoction with beef broth, blue cheese stuffed local cherry tomatoes, peach, bitters, and bourbon.
Attendees weren't able to sample the drinks, but you can find out the winning cocktail and sample a flight of the top three this coming Thursday at the Midway Pub, one of the event sponsors.
The market chef also focused on peach-centric recipes. He whipped up a really tasty peach, ginger, basil, sumac, and lemon puree; a peach, cucumber, and onion salad; and a peach ketchup. All three were completely delicious! Here's he is working on the puree:
This was my first time visiting the East Atlanta Market since they changed their location, and I've got to say that I was impressed! This little market has grown up a lot, and there were some really amazing vendors. The stand that tugged at my heart, though, was the Edgewood Community Garden:
Edgewood is my neighborhood, and it's 2 miles north of East Atlanta. The community garden has been really great for this area. The Edgewood neighborhood is a mix of middle- and lower-income families, and we see our share of crime and violence, often from teens. The garden is more than a source of fresh, local food for area families who might not be able to afford it otherwise. Getting kids involved in the garden helps them connect with the Earth and offers a productive, fun after school activity. I was so proud to see my neighborhood represented in such a positive way by the kids in the photo above! I bought a pound of potatoes from them, even though my kitchen is already fully stocked with potatoes.
I'd definitely call the Peach Jam a success. What a fun way to raise awareness about this gem of a local market and get people more excited about local, seasonal food at the same time!