Starting off the new year right, Campbell's food company has just announced that they will voluntarily label their foods with disclosure of genetically-modified ingredients!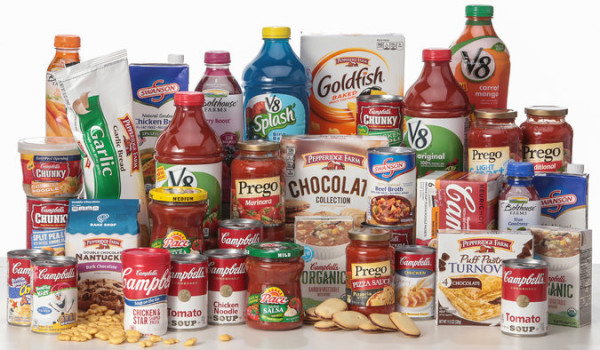 The New York Times reported today the this is the largest food company to make such a statement. The Environmental Working Group reports that Campbell's has also decided that they would officially support mandatory labeling of GMOs and withdraw from any coalitions of other food and chemical companies like Monsanto that oppose GMO labeling.
Denise Morrison, chief executive at Campbell's says that the current patchwork legislation of labeling rules at the state level is confusing and burdensome for brands, and she supports federal labeling program. She is quoted in the Times as saying, "A state-by-state patchwork of laws could be incredibly costly not only for our company but for the entire industry [and] we want the federal government to come up with a national standard that is mandatory."
As reported on Reuters, ">Campbell said late on Thursday that if a federal solution is not achieved in some time, it was prepared to label all its U.S. products for the presence of ingredients that were derived from GMOs and would seek guidance from the FDA and approval by the USDA."
Campbell's is one of the largest companies to make the switch, and with their brand portfolio including Pepperidge Farm, V8, Prego and more, this can be the harbinger of sweeping changes to come. And it seems they are doing it mostly to support the consumers' right to know. In the Times article, Morrison states, "we've always believed consumers have a right to know what's in their food," Ms. Morrison said. "We know that 92 percent of Americans support G.M.O. labeling, and transparency is a critical part of our purpose."
Currently the company does disclose on its website that some ingredients, like vegetable oil, monosodium glutamate and modified food starch may come from genetically engineered sources. And while the company is not sure how this change might affect future sales, they did report that noting that GMO ingredients are present on their site had NOT had an impact on sales.
You can read Campbell's company statement about why they support labeling here: Why we support mandatory national GMO labeling
However, the company maintains a position that GMOs are safe, the company notes that they support transparency in the food labeling and will be dissociating themselves from coalitions that fight against GMO labeling. Robyn O'Brien, food safety advocate, posted on Facebook that she applauds the move to put consumers first.