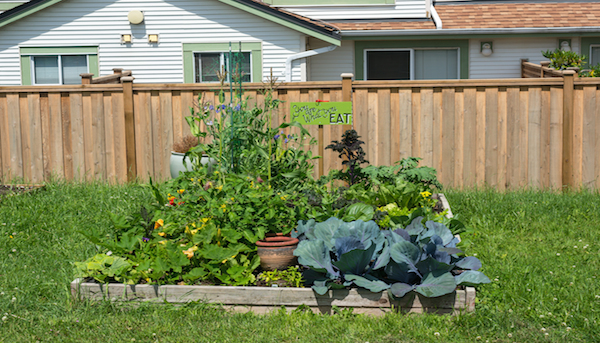 Want to turn your front yard into a radish garden? Or how about making that empty lot you own into a pumpkin patch? If you live in California, the recently passed Neighborhood Food Act says you can grow as much food on your property as you want, without penalty.
Think that's no big deal? Turns out, it's actually illegal to grow fruits and vegetables on residential properties in some areas of the country. The penalties usually occur as a result of planting food on your front lawn or on the curbside grass where neighborhood zoning regulations might prevent you from growing anything but grass. But in California, where there's currently a seriously severe and seemingly unending drought devastating the state's produce farming, turning lawns into hyperlocal food systems might be a pretty beneficial act. You know, that is if Californians want to continue to eat.
According to our sister-site Insteading:
"The Neighborhood Food Act, AB 2561, is just one of several sustainable foods bills signed into law by California Gov. Jerry Brown last week. Designed to removes barriers to growing food for personal consumption, the bill ensures that people have the right to grow food for themselves regardless of their housing status, and includes provisions that would completely overturn local zoning ordinances that prohibit growing food in front yards, back yards, or otherwise vacant lots (assuming they're owned by the grower) in "residential" areas and other types of zones. Furthermore, the Neighborhood Food Act guarantees tenants' and members of homeowner's associations' rights to grow food for personal consumption by voiding contrary language in existing lease or homeowner's associations agreements."
Want to start growing a low-impact garden on your California property? Fortunately, there are lots of edible crops that don't require a lot of water (and a lot less if you grow them your own, too). And start reserving some grey water that you can use for your food crops. For example: catch the cold water before the shower gets hot. When washing fruits and veggies, reserve that water for your plants.
Garden image via Shutterstock