Napa Valley in California sustained a 6.1 magnitude earthquake two weeks ago. What can you do to help with Napa earthquake relief? Buy wine.
Although most folks are safe after the Napa California earthquake, hundreds of homes and businesses in the local community were damaged. We all saw photos and news stories of fallen buildings and lots of broken wine bottles.
I have received dozens of emails from winemakers with reports of damage but all upbeat and hopeful about the future. Some in Napa have decided to sell more wine as way to combat the damage.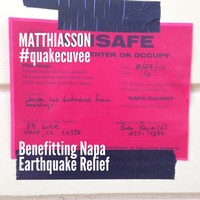 Jill Klein Matthiasson, co-owner with her husband and SF Chronicle Wine Maker of The Year Steve, wrote that their house was badly damaged, resulting in a "red tag" (hence, the label). After the Napa earthquake, they had to move out of their home and the barrels holding all of their 2013 wine tumbled to the ground.
Despite the fact that they don't yet know the extent of their own losses, the Matthiassons have decided to help others "get back on track."
Whether you choose to buy one bottle, six bottles or three cases, every little bit helps Napa earthquake victims.
Matthiasson is offering a limited release of a specially crafted MATTHIASSON Quake Cuvée (a Napa Red négociant blend to be created by Steve) in an effort to raise Napa earthquake recovery funds. ALL of the after-tax profits will be given to the NAPA VALLEY COMMUNITY DISASTER RELIEF FUND. Matthiasson has even created a hashtag to spread the word: #quakecuvee.
Matthiasson is taking pre-orders now until September 15th so that they can help the community as soon as possible and the wine will ship in the Spring 2015.
Photo: NBC News