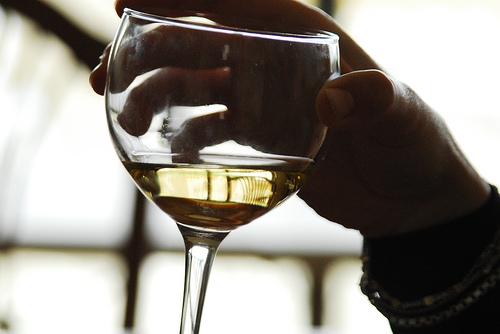 If you like to drink wine but get flustered when it comes time to actually buy it, you're like most of us. How to know which wine region? Which winery?  What's the difference between Syrah and Shiraz?
Here are a few low-stress ways to help you choose good cheap wine wherever you may go.
Let the experts do the work
Advice is free, so use it. Don't be afraid to ask questions in a restaurant or wine store, because there are no silly questions when it comes to wine. Or, as Ray Isle said in a Food & Wine article, In Search Of Good Cheap Wine:
…a helpful, informed staff person can't be beat when it comes to finding good value wine.
In fact, my favorite question for a sommelier is "what's the best value on the list?"
Find one red and one white varietal you like and start with those
According to Oldman's Guide to Outsmarting Wine: 108 Ingenious Shortcuts to Navigate the World of Wine with Confidence and Style, Australian Shiraz is the most "instantly likable red" wine under $15 retail. Armed with that information, Australian Shiraz is always a good place to start when choosing wine to buy in both wine shops and in restaurants. That's good to know as a start but then so is knowing the kind of wine you typically like. So, next time you drink a wine you like, make note of two things: what the grape varietal is and where is comes from. If you taste a Zinfandel from California or a Pinot Grigio from Italy and like it, you can always look for those wines in a store or on a wine list. And even if you can't find your favorites on the spot, telling the waiter or salesperson: "I like Italian Pinot Grigio, what do you have that's similar?" will likely get you in the ballpark of what you like. One caveat: It is good to know that certain grape varietals, such as Pinot Noir and Cabernet Sauvignon, rarely if ever win good cheap wine awards; they are simply too costly to produce. Sometimes knowing what to stay away from is the best way to find the good cheap wine.
To that end, Wine Folly has a great list of five good cheap alternatives to common varietals:
If you like Cabernet Sauvignon try Chilean Carménère
If you like Syrah try Spanish Monastrell
If you like Zinfandel try Primitivo
If you like Champagne try Spanish Cava
If you like Pinot Noir try Grenache
Skip the pricey brand names
Expensive doesn't necessarily mean you will enjoy it more. This is especially true when in restaurants where the mark up a bottle of wine is typically from 200 to 300% over its retail sales price. In other words, you can expect a bottle that retails around $15 in the store to cost you $45 to $60 in a restaurant. It is also standard practice to mark up the most popular wines on a list at the top of that range and the less popular sellers at the lower end of the range. Furthermore, specialty wines or rare and particularly expensive bottles of wine are often marked up even more than 300% with some experts noting that pricing special bottles at 400% over retail value is not uncommon. For this reason, I stay away from the big brand name wineries, like Opus One and Chateau d'Quem, when at a restaurant because you tend to pay a huge premium.
Try wine on tap
It wasn't long ago that wine on tap seemed like a radical idea. But no more. According to Malia Collins of Free Flow Wines, wine on tap is now becoming common in new restaurants across the country. Heather Sittig, an owner of TOAST in Oakland, CA points out that not only is tap wine environmentally and fiscally sustainable, but consumers are often able to enjoy tap wine at lower prices than they would be if the cost of bottling, disposal and waste/spillage were factored in. Now that premium wine can be had on tap, there's really no reason not to choose it next time you see it on the menu.
Ask for a "splash"
Worried you won't like the tap wine or the least expensive wine by the glass when in a restaurant? Don't be. Wine buyers spend lots of time finding the best price-to-quality wines for their by-the-glass wine offerings so they are always worth a try. If you're worried that the least expensive wine by the glass isn't going to taste good, simply ask for a "splash" before you decide (any restaurant worth its salt will give you a small splash of wine to try before you buy a whole glass). But be careful, don't ask for a "taste" since that can be a specific amount (usually 1 to 3 ounces) of wine you get charged for. A "splash" is always complimentary. If you don't care for the least expensive once you try it, try the next least expensive and so on. Just make sure you order something in the end, otherwise it looks like you're just trying to score some free wine.
Photo: paulaloe from Flickr