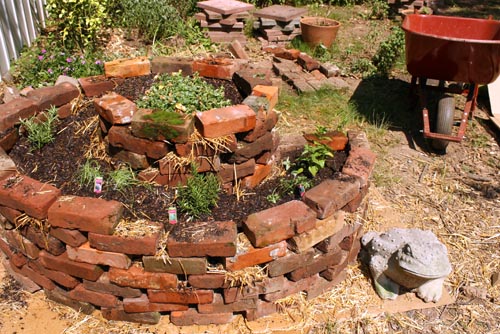 The plants out front have been doing so well that we've expanded our food-growing adventures to the back! Here's how you can build your very own spiral herb garden.
I've confessed already about my tragic history killing plants, but an iCal reminder to water my containers three times a week and my husband's kindness in sharing his organic plant food have made a big difference. The containers out front are doing really well, and I decided to push myself with some food plants out back, too!
When my friend Brian showed us this spiral herb garden, my husband and I were smitten. Our yard has been chock full of bricks since we moved in for whatever reason. Really, you can't dig out there without finding at least a few bricks, and we'd been stockpiling them in an area that we dubbed "the garden center." This was a perfect project to use up some of the bricks, and we loved the results so much that I headed back to the store for more straw after we finished so that we could build a second one!
How to Build an Herb Spiral
We basically followed the directions from the Nature Learning Center, but we decided to use some rocks from another yard stockpile at the bottom of our spiral to give it better drainage and help us use a little bit less hay. Here's how it went down:
1. Level out the ground where you're placing the spiral, spread out some compost, and cover the area with cardboard.
2. Build the spiral. Lay out the bricks in the spiral shape, then add layers of bricks until it's the height you want. We started each new layer of bricks 3 in from the end of the spiral's "tail." The weight of the bricks will hold things in place for the most part, but if you have any that are wobbly, you can use straw or mulch to help even them out. I noticed that things got wobblier as we got closer to the top, but it feels quite sturdy now that it's done.
3. Add the rocks. Fill the spiral about 1/3 full with rocks for drainage, preferably ones you've got on hand. It also means buying less straw, which is nice.
4. Add the straw. It takes 2-4 bales of straw to fill up your herb spirals, depending on how big they are. If you're going really big, it could take even more. You'll want to fill your herb spiral with straw almost all the way to the top.
5. Top with compost. Our bin is still not broken down, thanks to chilly temperatures, so we picked up a bag of mushroom compost to use.
6. Place plants. We found that the best way to add the plants was to place them on top of the compost, then fill in with potting soil.
7. Mulch. I was too pooped to take pictures at this point, but I promise that we used cedar mulch around the outside perimeter of each spiral to hide the cardboard and help it break down.
It looks so great!! A very kind woman at the garden store helped us pick plants. Here's what's in there:
cayenne pepper
rosemary
pineapple sage
oregano
cilantro
parsley
onion chives
Growing your own food? Tell us about it! You can drop a line through the contact page or email me directly at becky@importantmedia.org.