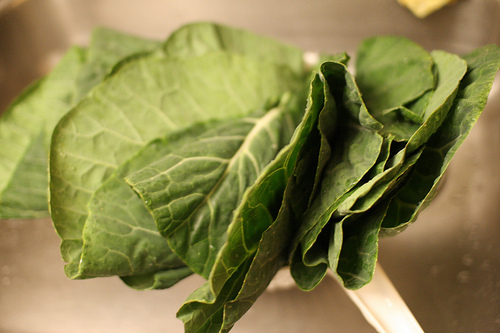 I'd never tried collard greens before, but I have been intrigued by them for a long time so I decided to take a shot. Since they are a little tougher than kale, I opted to braise them instead of pan frying to add a bit of moisture to the mix.
Braised Collard Greens
Ingredients
Virgin olive oil to cover the bottom of the pan + you may need a little bit more

1 large bunch

of collards: cut off the stems and slice with a rough cut

6 medium sized cloves

of garlic, minced

1/2 cup

veggie broth – this will eliminate the need for extra salt which is not healthy anyway

1/4 cup

dry white wine

Freshly ground black pepper, to taste
Cooking Directions
Heat the pan and add the olive oil.
Add the collards and about 1/2 of the garlic and start tossing the mixture.
When the collards have wilted, add the rest of the garlic and toss for about another minute.
Add the veggie broth and the white wine.
Turn up the heat and let the liquid evaporate, then add the black pepper.
This is a great side dish and very nutritious. Collards are a cruciferous vegetable that is high in vitamins C, A, and K as well as in minerals and fiber.
I served these with fried eggplant and tomato sauce.
Image Credit: Creative Commons photo by arvindgrover