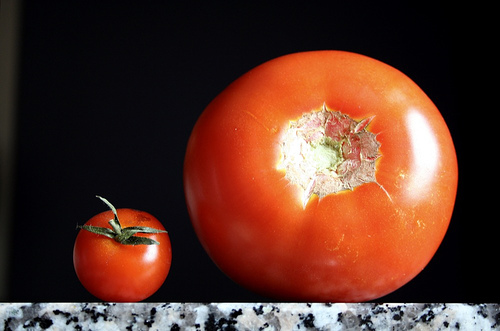 Have you been hunting for the elusive, BPA free canned tomato? Muir Glen announced over the summer that it was going to start using BPA free cans when it processed the new harvest, but the company also wasn't planning to label the cans as BPA free. How frustrating!
Luckily Sara, a persistent and savvy reader, followed up with the folks at Muir Glen and got a very helpful bit of information (emphasis added):
"One alternative has proven safe and viable in our processing of tomatoes – and Muir Glen has begun the transition to cans with liners that do not use BPA with this year's tomato harvest. It is an approved non-epoxy alternative. Can coatings used by Muir Glen also comply fully with all applicable U.S. Food and Drug Administration requirements for safe use in food contact applications. The BPA free cans will have a Better If Used By code date year of 2013."
Thank you so much for the sleuthing and for sharing this information, Sara!
Got your own tips to share? Don't be shy! You can always send us an email through our contact page!
Image Credit: Creative Commons photo by dominic-hallau_de