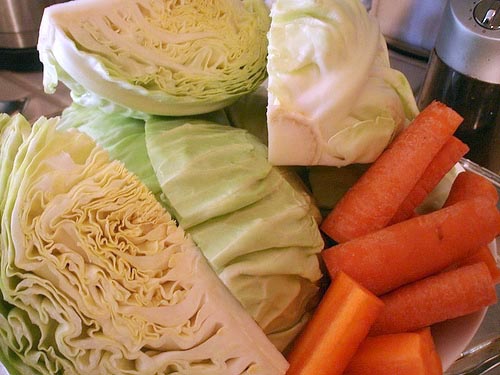 Sometimes it's a good idea to get down to the basics. Here's a dish with no glamor and no glitz but something I love to make because it's so simple and inexpensive.
The trick to this is to season the water and enhance, but not cover the veggies' flavor.
Ingredients:
1/2 – 2/3 head of white cabbage, cut in large wedges
2-3 yellow onions, peeled and left whole
3-4 carrots, peeled and cut in half
2-3 red potatoes, cut in half
Salt to taste (people with high blood pressure may want no salt at all)
1/2t dried juniper berries
1 large bay leaf
1/2t black peppercorns
a scant 1/2t each of caraway seeds and celery seeds
Water and 1-2 cans of beer (an ale or lager works best)
In a large pot full of water (and optional beer) add the juniper berries, bay leaf and pepper corns and bring to a slow simmer.
Add the onions, carrots and potatoes as they take the longest. When they have cooked for about 12-15 minutes, add the cabbage and caraway and celery seeds. Cover and boil until all the veggies a fork friendly. Drain and serve.
This dish is great with a sharp (French or English) mustard, some great black bread and a good beer. Guinness or your favorite dark beer goes great with this dish, or for more refined tastes, a dry white wine.
Image Credit: Creative Commons photo by citymama