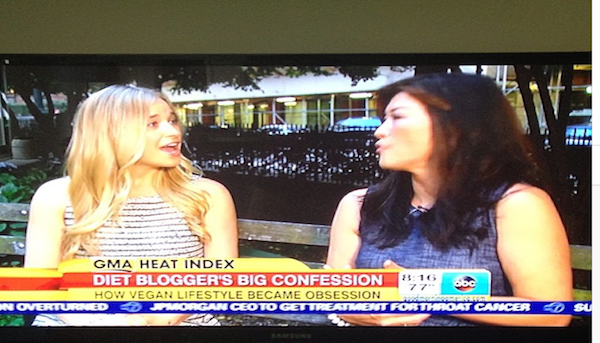 Blogger Jordan Younger, best known as "The Blonde Vegan" recently confessed to her 70,000 followers that she's given up on her vegan diet because of a battle with orotherexia—an eating disorder described as an obsession with eating only healthy foods. She's now going as "The Blonde Veggie."
Younger started The Blonde Vegan blog a year ago when at the ripe old age of 22 she identified as "being plant-based." But in the life of a now-23-year-old, that was way back when she apparently didn't know just how much she'd miss eggs. Younger claims her vegan diet quickly spiraled into an unhealthy obsession with food. "I would just stand in front of the refrigerator for 20 minutes totally panicking that I wasn't going to be eating the right thing for my body," she told ABC News. "I was a slave to food." And now, reintroducing animal products is supposed to be helping her recover from that obsession.
We can only assume there's a book deal on the way for Younger chronicling her terrifying year enslaved to eggplants and zucchini. The horror she must have experienced. Thank goodness she's returned to eating real food like eggs and cheese. No slavery there….except for the actual slave-like conditions animals raised for food experience until they're brutally slaughtered. Perhaps someone should tell Ms. Younger about that.
I'm not suggesting that Younger shouldn't be truthful with her followers or even eat animal products if that's what she craves. But the tragedy here isn't that she stood in front of her refrigerator for 20 minutes panicking—she seems to be doing just fine now—it's that veganism will once again get lumped in with unhealthy eating "obsessions" or worse, the dreaded eating disorder. Which. It. Most. Certainly. Is. Not. Younger's flip-flop is a problem happening a lot lately when it comes to the vegan diet: It's being treated as strictly a weight loss or health management diet and not the important ethical and environmental choice it is. I have a lot of sympathy for a 20-something who took her eating choices to an extreme–eating disorders are an issue in this country–but this just smells like the cheese she couldn't keep herself from eating.