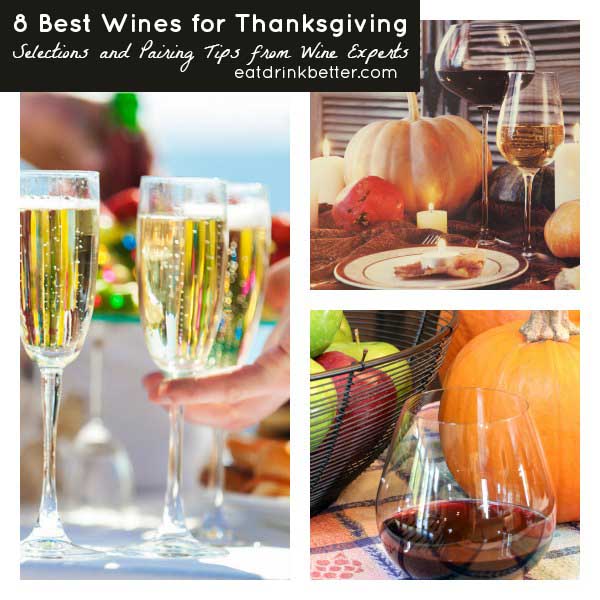 It's two weeks until Thanksgiving and do you know which wines to serve? Wondering how to pair wine with the myriad of diverse flavors on your table? I talked with a group of wine experts about the best Thanksgiving wines for your feast and pairing tips to help you choose which ones to serve.
Meet The Wine Experts
My experts included a couple of sommeliers, a chef, a food and wine writer, a global wine buyer for Whole Foods and two wine merchants:
+ Perry Hoffman, Domaine Chandon's head chef of étoile restaurant who is (no surprise) a fan of long sur lie sparkling wines with their baked tree fruits and toasted bread flavors profiles.
+ Emily Wines, the aptly named female master sommelier and director of wines at Kimpton Hotels & Restaurants, who is going domestic this year and trying to celebrate Thanksgiving by drinking great wines from all over the country.
+ Jill Silverman Hough author of 100 Perfect Pairings: Main Dishes to Enjoy With Wines You Love (Wiley, 2011) who suggests plunking a few nice bottles on the table and letting your guests enjoy a little of this and a little of that.
+ Brian Robinson, owner of Gnarly Vines in Brooklyn, who recommends "small-production, handcrafted wines made by uncompromising winemakers who are responsible stewards of the earth."
+ Elizabeth Schneider, Certified Sommelier and Specialist of Wine, wine blogger and author of the forthcoming book, Wine For Normal People.
+ Melissa Darnay, aka. The Wine Maven, a personal wine merchant whose stated goal is "to make wine and food fun again."
+ Doug Bell, national co-wine buyer for Whole Foods Market who says sparkling wine goes with everything.
Maybe a good place to start is what not to serve. Darnay suggests avoiding these characteristics:
High in tannins (there goes California Cab and French Bordeaux)
High in alcohol (Aussie Shiraz and Argentinian Malbec are off the table)
High in acidity (Sauvignon Blanc has to wait for another meal)
So what you've been waiting for…here are the picks from the experts…
The Best Thanksgiving Wine
1. Pinot Noir All the experts agree that Pinot Noir is a fantastic choice for Thanksgiving. Silverman Hough: "Pinot Noir is light for a red, so its got enough heft to work with the gamut of flavors and textures, but its still light enough to work with poultry."  Pinots pair well with the traditional spices of the season and the underlying earthy, smoky and fruit flavors make it natural compliment to all the flavors on your table.
More of the Best Thanksgiving Red Wines
2. Syrah Bigger, bolder reds may might be too heavy for turkey dinner, but if a big red is what you like, Syrah with its smoky and fruity palate is a good pick. Schneider: "Syrah is an awesome choice for Thanksgiving, Syrah has the perfect cocktail for pairing with the savory, herbal, peppery food."
3. Zinfandel. Schneider: "Zinfandel is great for Thanksgiving because it's got tons of ripe plum flavors and then it hits you with black pepper spice and often, because of the oak, it can be like cloves and nutmeg. This can kind of "season" some of the simpler dishes because they'll take on these characteristics." Great Zin comes from from Mendocino County, where it's a bit more restrained, Dry Creek Valley in Sonoma, where it ranges from fruity to more peppery, and Paso Robles, where it's a fruit bomb.
4. Merlot. Says Darnay "This is a great supporting actor to your Thanksgiving table if you want your Turkey to be center stage." Schneider: "If you're going to go with this very "medium" choice (it's medium bodied, medium in alcohol, tannin, etc), make sure it's nothing too subtle, like some California Merlots." You want something that has good fruit, and is slightly earthy.
Best Thanksgiving White Wines
5. Chardonnay. Chardonnay without too much oak or butter is the best fit for Thanksgiving. Chardonnays from Sonoma Coast whose cooler, coastal climate preserves the crisp acidity and bring out more tree fruit flavors, like pear and apple will work well. But, pay attention to the alcohol levels as Chardonnay can top 14% alcohol. Robinson notes that Chardonnay's apple, herb and dried spice flavors and rich texture make it an easy to drink selection for almost every part of the meal.
6. Riesling Schneider: "I think a MUST for the Thanksgiving table is a Riesling. With all the savory  flavors and heaviness, Riesling's acidity is a refreshing palate cleanser."  Try something dry (make sure it says Trocken, Classic or Selection on the label) to compliment the creamy mashed potatoes, buttery turkey, and savory stuffing. Or, a try a Riesling with just a touch of sweetness to provide a little fruitiness for the sweeter dishes on the table.
Special Thanksgiving Wines
7. Champagne/Sparkling Wine The experts agree that bubbles are not just for New Years Eve. Emily Wines: "Sparkling wine is a must for every special meal. I love it with salty foods like the chips and dip my aunt always puts out before Thanksgiving dinner." Hoffman notes that bubbles go well with stuffing, mussels, pumpkin pie, and turkey. Darnay adds that it has the added benefit of cleansing your palate between each bite.
8. Rosé Darnay says it well: "Don't think white zinfandel. If you choose a dry rosé with a traditional Southern Rhone blend of grape varietals (Mourvedre, Syrah and Grenache), your palate will thank you." Emily Wines notes that a good rose, with its slightly fruity and light spice palate, complements both turkey and cranberries. Try some of our rosé picks!
Darnay adds this sage (no pun intended) advice:
A savvy host should choose 2-3 different wines and allow their guests to pour their favorite color. After all, we all have different taste buds, and when it comes to pairing wine and food, one wine type does not fit all.
Wine Pairing Suggestions
Pinot Noir Hirsch Vineyards 2009 Bohan Dillon Pinot Noir – Hirsch Vineyards' "The Bohan-Dillon" shows lush, vivid fruit and a scent of earth and wild strawberries and drinks like something much more expensive.
Merlot Dumas Station 2008 Estate Merlot – This Walla Walla Merlot serves up raspberries on the nose, tossed with dark fruits and tobacco. Fruit forward, this wine reveals less oak, offering a sense of freshness.
Syrah Waxwing Flocchini Vineyard Sonoma 2009 Syrah – This small production Syrah (only 80 cases made) is tastes of coffee, toast, smoke layered on a dark fruit core.
Zinfandel Chase Family Vineyards Hayne Vineyard 2008 Zinfandel – The 2008 Napa zin has dense powerful fruit characteristics with the usual balance and elegance you've come to expect from Chase Cellars' Hayne Vineyard Zinfandel.
Chardonnay Redmon 2009 Chardonnay – This light colored, medium-bodied chardonnay is completed with a wonderful finish of refine acidity and silky mouth-feel that one comes to expect from a premium Napa Valley Chardonnay.
Riesling Pacific Rim 2010 Riesling – A 90 Points best buy from Wine Enthusiast (August 2010) this riesling is on the borderline between dry and sweet, this richly fruity riesling is packed with flavors of peach, apricot, pear, a hint of mint, and a streak of wet stone.
Sparkling Wine Montellianna Prosecco Spumante Doc Treviso Extra Dry – This sparkler displays a light straw color and copious amounts of lively bubbles. It has a fresh, citrusy aroma with flavors of peach, mango and orange.
Rosé k.furtado Santa Barbara McGinley Vineyard 2010 Rosé – The color is light red. The nose is expressive of rose petals, strawberry and tobacco. The mouth feel on this wine is rich and textured. The palate is very primal with loads of fruit and tannin.
Image Credit: wine photos via Shutterstock