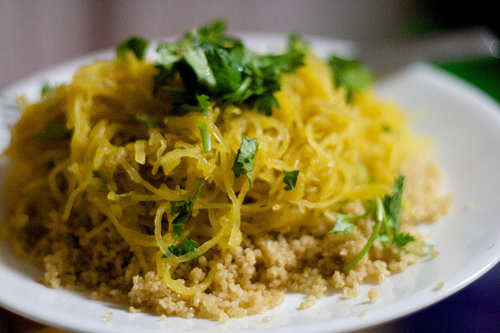 Whether you have dozens of spaghetti squash in storage for winter or picked up one from your local, end-of-the-season farmers market, this is a recipe that you'll want to make again and again. It would also be lovely as a side dish or meatless main course for Thanksgiving dinner.
Vegan Moroccan-Spiced Spaghetti Squash
Recipe adapted from one of my favorite food blogs, Smitten Kitchen.
Serves 4
1 (3 1/2- to 4-pound) spaghetti squash
5 tablespoons olive oil
3 garlic cloves, minced
1 teaspoon ground cumin
1/2 teaspoon ground coriander
1/8 teaspoon cayenne
1 1/2 teaspoons sea salt (or to taste)
3 tablespoons golden raisins
Half of a 15-oz can chickpeas, drained and rinsed
2 tablespoons chopped fresh cilantro
Preheat oven to 400°F. Cut the squash in half lengthwise. Scoop out the seeds (either discard or save to roast later). Brush the inside of the squash with a tablespoon of olive oil. Roast the halves face-down on a baking pan or sheet for 30-40 minutes, until the flesh of the squash is fork-tender and has separated into spaghetti-like strands.
While the squash cooks, heat the remaining oil in a small saucepan over medium heat. Add the garlic and cook until fragrant, about a minute. Stir in spices, salt, raisins, and chickpeas and remove from heat.
When the squash is done, remove from oven and let it sit for five minutes, or until it's cool enough to handle. Using a fork, scrape the squash flesh out of its skin into a bowl, separating the strands as you go. Toss the squash with the spiced oil mixture and cilantro. Serve warm, over couscous or sautéed winter greens if you like.
Image courtesy of robbplusjessie via a Creative Commons license.