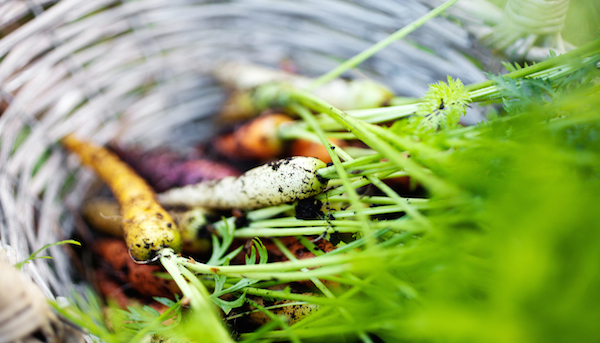 Vegetarians can add another helping of kale to their plates. According to a study published in the recent issue of the journal Nature, there are more perks to a plant-based diet than just health. It's also the best diet to reduce the impact of global warming.
The research, conducted by the University of Minnesota, looked at 50 years' worth of data from the 100 most populated countries, reports Civil Eats. And not only does our current propensity for meat, sugar and fat lead to diet-related illnesses such as diabetes and heart disease, "but also to dangerously increasing agricultural greenhouse gas emissions (GHGs)." A
Researcher and UM Professor of Ecology G. David Tilman said: "This is the first time this data has been put together to show these links are real and strong and not just the mutterings of food lovers and environmental advocates."
It's a pretty big statement, but one that makes sense when looking at supporting data. There have been studies showing the impact meat and dairy production has on greenhouse gas emissions, and more and more studies also point to excessive animal product consumption and health issues.
"Alternative diets that offer substantial health benefits could, if widely adopted, reduce global agricultural greenhouse gas emissions; reduce land clearing and resultant species extinctions; and help prevent such diet-related chronic non-communicable diseases," the researchers noted in Nature.
"Agriculture currently contributes about 25 percent of the GHG emissions driving climate change," reports Civil Eats. "Grain-based livestock production–which involves clearing land and raising grain for animal feed, particularly in the world's tropical regions–contribute more than 75 percent of those emissions."
And if current diet trends continue, we're likely to see as much as an 80 percent increase in agricultural greenhouse gas emissions within the next 35 years.
So, what specifically is the best diet for both humans and the planet? It's one built around local foods, especially fruits, vegetables, beans and whole grains. If you're going to eat meat and dairy products, make sure they're local and make sure they're organic. And the researchers note avoiding "empty calories" such as sugar, fat, oils and even alcohol, which are contributing to greenhouse gases and poor human health.
Carrots image via Shutterstock