Berlin's Metro Cash & Carry supermarket is piloting a grocery store indoor farm that produces herbs and veggies on-site, right in the store.
Forget the grocery store endcaps stuffed with junk food and plastic garbage. This Berlin grocery store is using that precious space to grow its own herbs and salad greens. Check out the video tour above of the grocery store indoor farm that Metro is calling "the future of retail."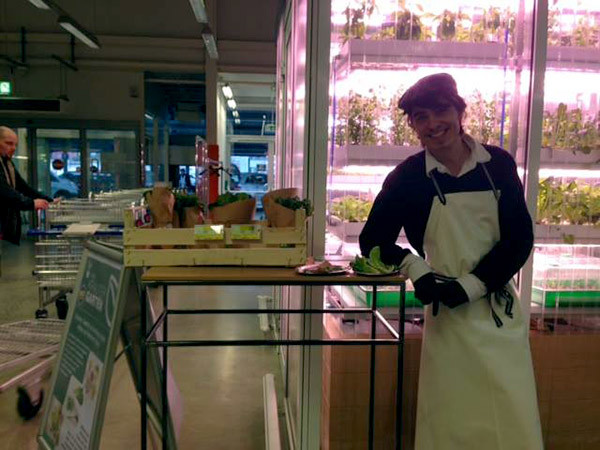 Metro's grocery store indoor farm is the first of its kind in Europe. They are using a system developed by German company INFARM. INFARM's indoor vertical greenhouses are not just cool – they're efficient. The grocery store indoor farm uses custom lighting and heating/cooling to grow high-quality produce. It also includes software that analyzes soil for better production and helps grocers harvest at the right time for peak production and to meet consumer demand. And it does it all affordably, with less water, and using no pesticides at all.
This isn't the first time that a grocery store has grown its own produce. One New York Whole Foods is using a rooftop garden to stock part of its produce section. What's unique about the INFARM system is that it happens indoors, right in front of shoppers. The mini vertical farms are meant to provide affordable, healthy produce and inspire people to grow some food of their own by showing that growing food inside is doable.
The other unique aspect of this grocery store indoor farm is that it's meant to contain the plants through their whole lifecycle. No starting seeds and transplanting. Keeping everything self-contained like this means less work for the store itself. That makes this model a lot more accessible than other on-site growing operations.
Images via INFARM Facebook page