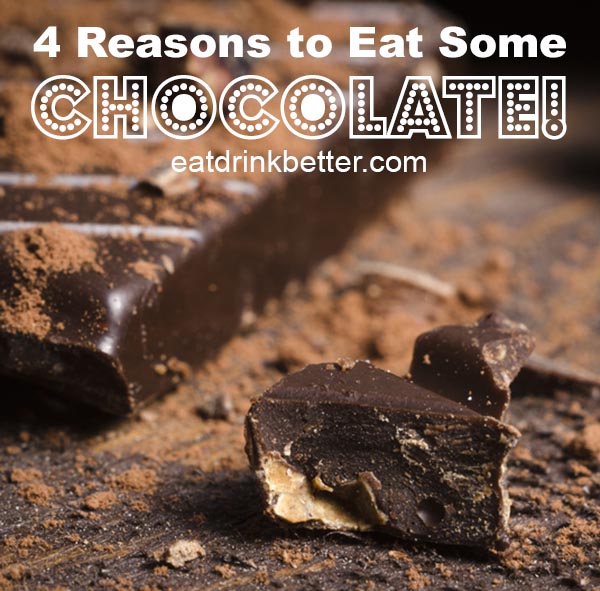 Do you have a vague idea that chocolate may be healthy but no facts to back that up? Here are four solid benefits of dark chocolate!
When we talk about the benefits of dark chocolate, the emphasis is on the dark part. Dark chocolate contains more cocoa powder than milk chocolate. And cocoa powder is where the dark chocolate health benefits really live.
Chocolate gets a bad rep in the food world sometimes, and it's not the chocolate's fault! So much of the mainstream chocolate out there is loaded with heart-harming animal products and lots of sugar. You start to see the benefits of dark chocolate when you choose high-quality dark chocolate. The higher the percentage of cocoa powder on that label the better!
4 Benefits of Dark Chocolate
1. It may reduce stroke risk.
Women who consumed 2 1/3 ounces of dark chocolate had about a 20 percent decrease in stroke risk according to a 2011 study.
2. Dark chocolate improves heart health.
A new study published in the Journal of the American Heart Association found that dark chocolate helps patients with pulmonary artery disease by improving blood flow to their limbs. The researchers say that chocolate's polyphenols help blood vessels dilate, improving blood flow to the extremities.
3. Good dark chocolate is often vegan.
You do need to check your labels for butter, milkfat, and butterfat, but many brands of quality dark chocolate are also deliciously dairy free! That means you can reap the benefits of dark chocolate without supporting cruel, polluting animal agriculture.
4. It's a good source of iron and trace minerals.
Just one ounce of dark chocolate contains 19 percent of your daily iron requirements. It's also a good source of copper, manganese, and magnesium.
Image Credit: Chocolate photo via Shutterstock