It's basil season! This garden herb is great for making pesto, and it's also the perfect way to spruce up your favorite summer cocktail recipe.


Great basil is like a great heirloom tomato – its flavor really suffers when it's grown in a greenhouse out of season and shipped across the country. So I always look forward to the first big basil harvest of the summer.
Of course basil is great in everything from pesto to stir fries to salads, but I find it extra refreshing in a cocktail on a steamy July afternoon.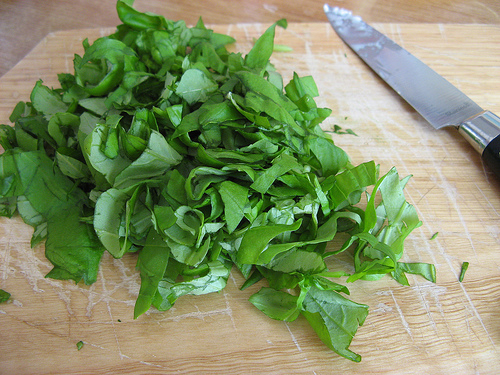 Basil grows well in hot weather, so peak basil season tends to run from late spring to the end of summer.
There are dozens of varieties of basil, each with a different flavor profile, allowing you to mix and match different types of basil with your favorite drink recipes. For instance, this Lillet-Basil cocktail uses cinnamon basil for an interesting twist.
One of my favorite cocktails of the moment is the Produce Stand, a garden version of the classic Bloody Mary featuring basil, cherry tomatoes, hot sauce, and cachaça, a Brazilian liquor made from fermented sugar cane.
Also check out Bar None drinks for over 20 basil cocktails.
Do you have a favorite drink recipe using basil? Share it here as a comment!
Top image courtesy of amandabhslater via a Creative Commons license. Bottom image courtesy Frenkieb of via a Creative Commons license.