Are you worried about making a big impression at your Thanksgiving dinner tomorrow? If you're not a regular cook but want to make a good meal for your family and friends, my suggestion is to stick with the basics. Below I've shared a few recipes from my new cookbook, Gettin Saucy to help you serve excellent (but simple) vegan Thanksgiving recipes that work well for any holiday meal!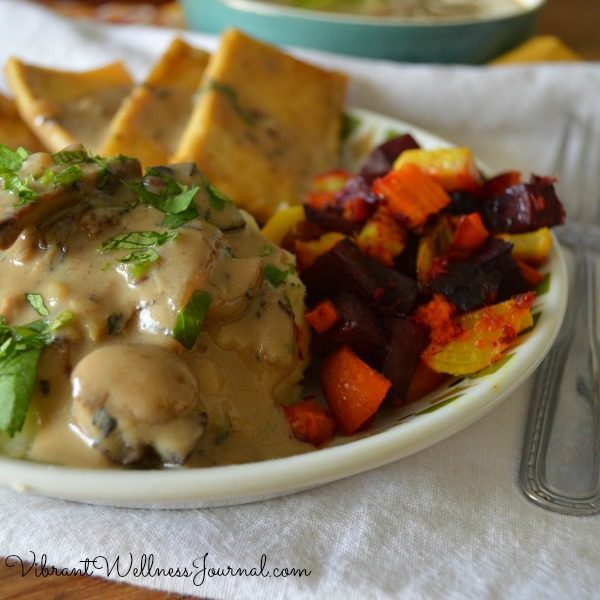 These recipes I'm sharing below– like the other recipes in the book– are based on my experience of teaching cooking classes for the past five years, and realizing that not everyone wants a cookbook full of amazing new recipes (although I love those types of cookbooks too!). But to a lot of folks, a full cookbook with a ton of new and unfamiliar ingredients can seem intimidating.
Instead, most of the students in my cooking classes wanted some easy ways to improve their existing meal rotation. And so our cookbook was born. The book features 28 sauce recipes to spice up your regular meals, and 10 plant-based basics to help increase your intake of vegan staples like tempeh, kale salads, chia seed pudding, and more. With help from Becky Striepe, our excellent Editor (site director here at Eat Drink Better and dang fine cookbook author herself), we created Gettin' Saucy: 38 Recipes to Make your Meals Sassier and Saucier. We're currently crowdfunding to prepare for the first round of printing in just a few weeks!
But onwards to the recipes: I'm featuring a Thanksgiving staple (and year-round favorite!) of Creamy Mashed Potatoes, along with a perfectly autumnal Kale Salad featuring whole grains and roasted veggies for a great warm/cooked combination. And to top those mashed potatoes, our friends at Care2 just shared my recipe for Smoky Mushroom Gravy and Chickpea Gravy.
---
Roasted Root Vegetable Kale Salad from Gettin' Saucy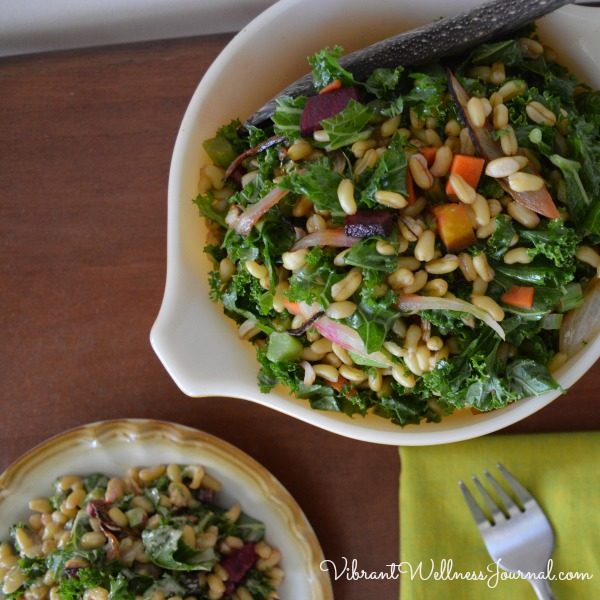 This vibrant salad pairs nicely with hearty autumn fare or makes a lovely light meal or a side salad. Top with a vinaigrette or a tahini-based dressing for a lovely side dish or main. Like most Thanksgiving recipes, it makes excellent leftovers (just keep dressing separate).
1 cup diced carrots
1 cup diced beets or parsnips
1⁄2 cup sliced leeks or onions
1 Tablespoon olive oil
Salt and pepper to taste
1 bunch kale, about 10- 12 ounces
1⁄2 cup sunflower seeds
1⁄4 – 1⁄2 cup dressing of choice
1 cup cooked wheat berries, spelt berries, kamut, quinoa or millet (pictured is kamut)
Add diced carrots, beets/parsnips, and leeks/onions to a baking dish. Drizzle with olive oil, sprinkle with salt and pepper, and toss to combine. Roast at 400º for 15-25 minutes, or until vegetables are very soft (test with a fork for doneness). Remove from heat and let cool.
To prep the kale: tear kale from the stems. Chop or tear the leaves into bite-sized pieces, and add to a large bowl.
Massage kale gently with your hands until kale is wilted to about half the volume. Add a Tablespoon of dressing and massage a bit more until leaves are coated. Drain off any excess green juice.
Add cooled, roasted vegetables and sunflower seeds to the salad, and toss with remaining dressing and the cooked grains.
Yield: about 4 cups, or 2-4 servings of salad
---
Creamy Vegan Mashed Potatoes from Gettin' Saucy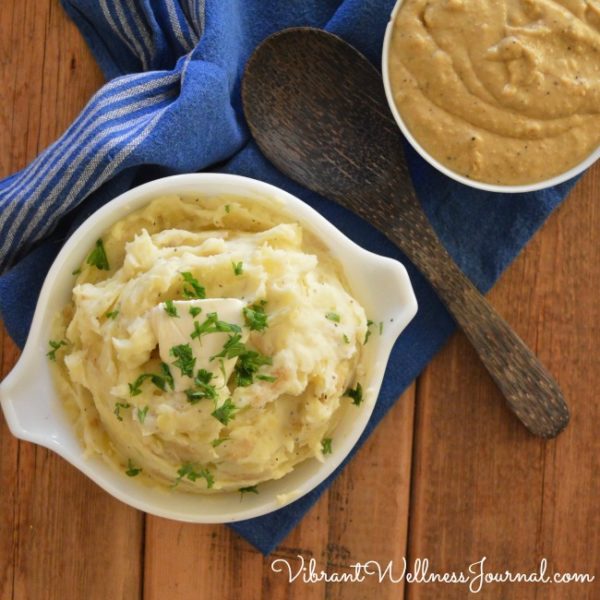 I think mashed potatoes are like, the ultimate comfort food. Making mashed potatoes vegan is not hard, you just need to know which substitutions to use! Serve these mashies with Chickpea Gravy (see link above) Smoky Mushroom Gravy (see link above), or get the cookbook to serve them with my date-sweetened barbecue sauce.
4 medium-sized Yukon or red potatoes
pinch sea salt
2-4 Tablespoons vegan margarine
1⁄4 – 1⁄2 cup unsweetened plant-based milk
1⁄2 teaspoon ground black pepper
1 Tablespoon dried parsley
Scrub potatoes clean, and peel if you like. I think the skin in mashed potatoes is earthy and good.
Chop the potatoes roughly and add to a large stockpot. Add a pinch of salt, and cover with water. Bring to a boil, and cook for about 10 minutes. Check with a fork for doneness- potatoes should be soft and mostly falling apart.
Drain potatoes, and add vegan margarine and 1⁄4 cup of the milk. Mash using a potato masher or whisk until they are as clumpy or smooth as you like. Add more milk if it seems dry. Season with pepper and parsley, and add more salt if needed.
Yield: about 3 cups, or 3-4 servings