Dining outside is one of life's greatest pleasures, and depending on where you live, it might be a fleetingly seasonal experience. But wherever you decide to dine al fresco, it always feels somehow more festive, more charming, and can help create a mindful connection with nature while eating.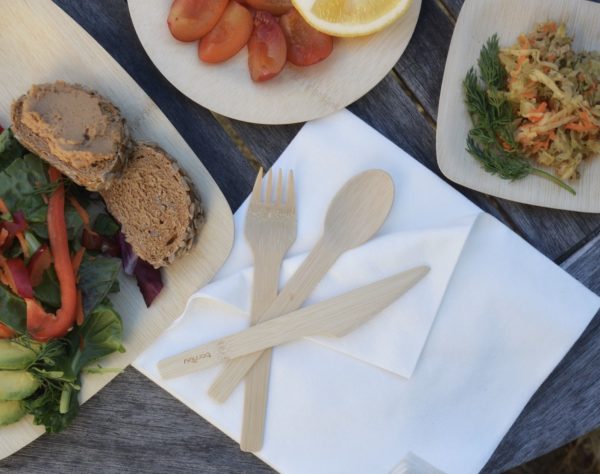 If you're dining outside, whether at a park, a forest, or even in your own backyard, it can be a hassle to bring all the supplies you'll need. I've lugged my fair share of vintage plates, silverware, and wine glasses to beaches and parks for picnic meals– and regretted it every time when the shoulder pain kicked in and/or when carrying messy dishes back home.
So I was really happy to sample some disposable bamboo plates and compostable napkins from Bambu. Not only does this company make generally awesome kitchenware (a lot of which is used daily in my busy kitchen), their product line continues to branch out, if you will, to create a gorgeous line of all natural compostable dinnerware that would be perfect for a picnic but equally at home for a beautiful meal.
Their line of Veneerware® (bamboo disposable plates and dinnerware) is rustically beautiful and totally practical for both inside or outside eating. But it's what's inside that counts, right? This whole line of dinnerware is certified organic bamboo, is FDA foodsafe, and fully compostable.
Their line of bamboo dinnerware includes table basics like plate, bowls, utensils (including super cute mini sporks), and even new bamboo tongs, perfect for enjoying salads out of doors and not worrying about how to bring home the sticky tongs for washing! The tongs are easy to use, and lovely to look at as part of a fully sustainable dinner spread.
To complement their line of compostable dinnerware, Bambu is releasing premium paper napkins made from bamboo– the first single-use napkin made from this wonder plant. I was lucky enough to try a sneak sample of these napkins, and they'll be available on Bambu's website very soon. In fact, my source at the company says they're aiming to get them up on the site as soon as early next week, so check back then! You can get more information about them now by emailing customercare@bambuhome.com.
Both the napkins and Bambu plates have been approved as USDA Bio-Based, a cool distinction that means these products have been verified by the government as good for the planet and helpful for weaning us off dirty fossil fuel based products.
These single use napkins are really lovely: silky soft in texture, creamy in color, and of course, totally compostable. Unlike many other natural napkins (which really look like paper towels, let's be honest), the Bambu napkins are truly beautiful, and would be home at any dinner party or any festive occasion. These bamboo napkins come in both dinner and cocktail size. Bamboo is a fast growing grass that is one of the world's most useful plants, and Bambu has found yet another way to transform that material into something truly lovely.
Not only does Bambu make great products, they do it really well. They source their bamboo and produce their products ethically in China; their products and facilities are third-party certified for safety, fair business practices and safe working conditions, as they maintain a super green supply chain. They have been recognized as a Green America Certified Business and most of their products are USDA Certified Organic. The founders Jeff Delkin and Rachel Speth live and work in China, developing a connection with their farmers and producers, and ensuring that they maintain the highest standards of transparency.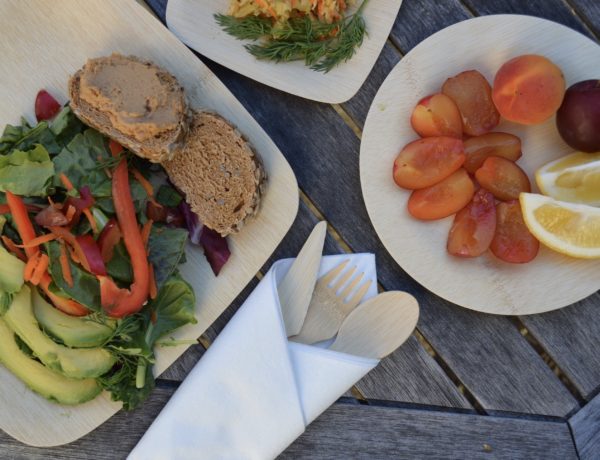 Bambu is exactly the company I want to support, both in my kitchen and here on our site: they are making awesome products to help your kitchen become gorgeously green, and doing business in a way that is good for humans AND good for the planet.
This post has been created in partnership with Bambu, but all opinions are my own. Seriously, this company is truly great and we are proud to have them as a partner here at Eat Drink Better.