In corroboration with what many doctors have been saying for years, the World Health Organization is planning to declare that bacon and sausage cause cancer. The news puts bacon, sausage, and other processed meats in the same category as equally dangerous products like arsenic, asbestos, and cigarettes.
As reported on Yahoo news earlier today, in addition to bacon and sausage, which is prepared by smoking, curing, salting and adding preservatives like nitrates (which are also linked to cancer), The World Cancer Research Fund will also cite red meat as "probably carcinogenic to humans."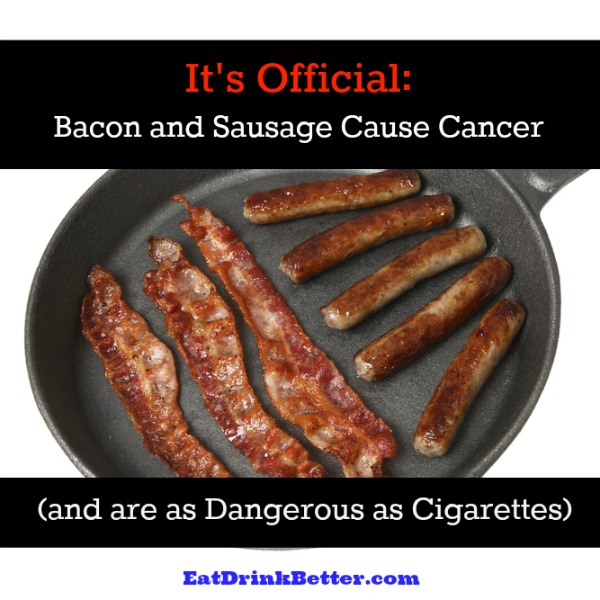 At the basis of this announcement is research showing strong evidence that eating these processed meats and red meat increases the risk of bowel cancer, which is the second most common cancer in Europe and third most common worldwide, according to Cancer Research UK. Bowel cancer accounts for ten percent of all deaths from cancer, says Yahoo.
The preliminary news about the statement has come about after a meeting and review of all available evidence from scientists of ten nations. The official announcement is expected to be Monday. One of the more interesting quotes is from Betsy Booren, of the North American Meat Institute. She's quoted as saying, "If they determine that red and processed meat causes cancer – and I think they will – that moniker will stick. It could take decades and billions of dollars to change that."
How do you feel about the American Meat Institute saying yes, I think they will find meat to be related to cancer– when all along they've been saying that red meat is a part of our healthy diet? Perhaps instead of 'spending billions of dollars' to change our idea about the cancer-meat connection, why don't we eat less meat to avoid cancer all together?
As we've written before, there is actually a lot of evidence that animal foods (meat, dairy, and egg products) are negatively implicated in human health. But an announcement from WHO could add weight to this research in a way that Neal Barnard at Physicians Committee for Responsible Medicine, Dr. Caldwell Esselstyn or T. Colin Campbell– plant-based diet advocates, whom have written extensively about the connection between animal foods and cancer– cannot.
Not only is meat bad for our health in the long term, it could also be potentially deadly. WHO has already written extensively about Campylobacter and salmonella and about dangerous dioxins found in animal foods, so an announcement about a direct link to cancer might just give people a chance to really think about their meat in a new way.
bacon and sausage image from Shutterstock