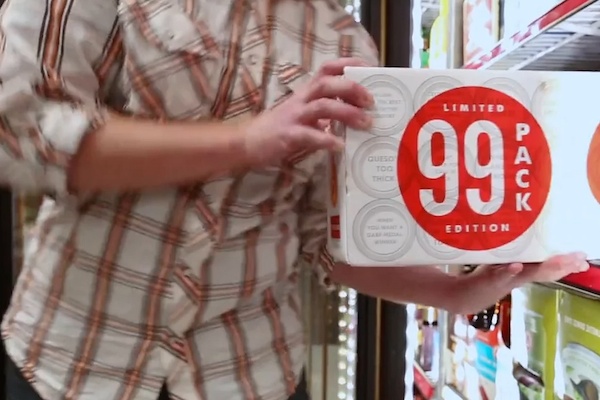 99 bottles of beer on the wall? Nope. 99 cans of award-winning craft beer in one humongous case. The folks at Austin Beerworks are inspired. Cheers to them!
Those crazy kids have packaged their Peacemaker Anytime Ale — the first beer they ever brewed — in 82-pound, 7-foot long boxes of boozy goodness. 99 cans for $99. Just in time for your Labor Day celebration.
This isn't just a good deal, it's a good beer — an extra pale ale that won a silver medal at the 2011 Great American Beer Festival. Austin Beerworks believes you can drink this light, refreshing beer anytime of day. After all, it's noon somewhere, right? Thus the slogan: "Anytime is a good time for a Peacemaker."
Here's the catch. They only packaged 20 99-packs this run. And they are only available in Austin. Oh, and they are already gone — they were released yesterday and snapped up by Austinites just trying to keep it weird. (Boo!) The good news? They plan to make more.
Austin Beerworks drove a very clever social media campaign to announce where the 99-packs would be distributed. It didn't go completely smoothly. From their Facebook page:
Today was a crazy day. Sounds like most of y'all had a good time. Thanks for stalking us from place to place and being nice to us. For those of y'all that didn't have a good time, we're really sorry. We knew there was no way to get 99-packs to everyone who wanted one, but we could have done a few things better. … We're going to make more 99-packs for next week and are open to any suggestions about how to do it better next time. You're also free to yell at us and call us dirty names.
The crew at Austin Beerworks can't believe no one has done this before. Excess packaging aside, I am inspired when someone thinks outside the box — or the 12-pack in this case.
Here's a video in case you want to see what this whale of a case of beer actually looks like. I'll try to alert you when the next batch becomes available, or you can follow them on Facebook, Twitter, or Instagram to stay up-to-date. And please recycle the cans (or use them to make cookie cutters, key chains, or coasters) and the box (unless you want to turn it into a playhouse for your cats).
Want to learn more about beer? Check out this infographic with 24 fun beer-related facts.
Video and Image Credits: Austin Beerworks