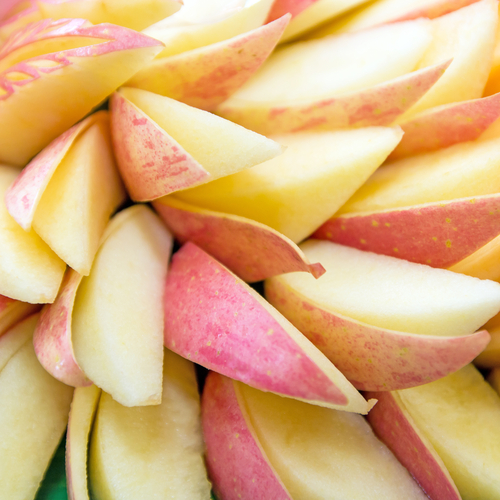 Del Monte issued an apple recall on Wednesday for packaged cut apples and fruit medleys that include cut apples.
The recall is for products containing cut Gala apples. Galas are red, so if you have any Del Monte products that include cut red apples, check the list below. Not all of the products are clearly labeled Del Monte, so look out for these brand names:
Del Monte
The Farmers Market
Wegmans
Apple Tray with Dip
Nature Made
M T Go (Made To Go)
7 Eleven Fresh to Go
Gourmet Bowl
Red Apple Slices
Apples & Grapes Tray with Caramel Dip or with Caramel Apple Dip
Right now, the recall is only impacting customers living in the northeast U.S. The apples were recalled for possible listeria contamination.
Listeria is a common food contaminant. Other large listeria-related recalls include a 2011 cantaloupe recall and a hummus recall in May of 2014. A listeria infection is called listeriosis. According to the apple recall notice, listeriosis symptoms include "fever and muscle aches, sometimes preceded by diarrhea and other gastrointestinal distress."
The apple recall covers 3,051 packages containing fresh cut red apples from:
Giant Eagle
Amazon Fresh
Sunoco
Peter's Fruit
Wegmans
Sheetz
7-Eleven
The recalled apples have "Best If Enjoyed By" dates of 12/3/14, 12/6/14, 12/7/14 and 12/8/14. The fresh cut red apples have a red color skin. You can click here to download a pdf of the product labels. Here's the complete list of recalled apples, as of this writing: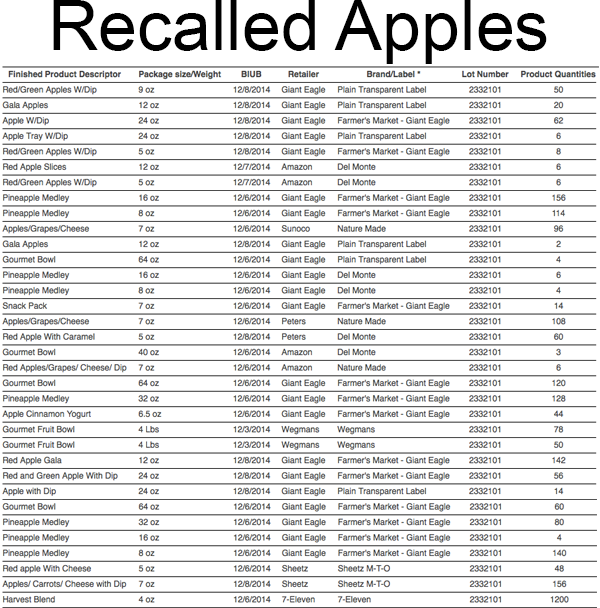 Apple image via Shutterstock