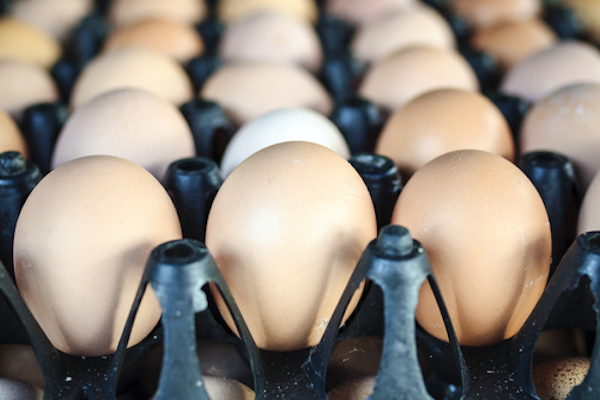 Great news from the food industry: Perdue Foods, well-known supplier of chicken, turkey, and pork, has stopped its use of antibiotics in chicken hatcheries — the end of a 12-year project to eliminate the use of unnecessary antibiotics.
Scientists, food policy experts, and consumers have become increasingly worried about the impact antibiotic use in livestock has on people, animals, and the environment. One of the biggest concerns is the growth of deadly antibiotic-resistant strains of bacteria like methicillin-resistant Staphylococcus aureus (MRSA). Perdue took these concerns to heart and began moving away from conventional antibiotic practices in 2002. It stopped administering human antibiotics to boost chicken growth in 2007.
The company's latest step — removing antibiotics use on incubating eggs — takes Perdue to a level of antibiotics restriction that exceeds both the Federal Drug Administration's (FDA) voluntary guidelines for antibiotic use in food animals and the standards of the USDA Organic certification program. Chairman Jim Perdue stated in the press release: "We listened to our consumers and we are proud to have developed a responsible program that does not risk the medical effectiveness of antibiotics in human health, provides appropriate health care for animals and does not employ growth-promoting drugs. While treating illness is a responsible part of animal care, we believe human-approved antibiotics should not be used to boost production or in place of responsible animal husbandry or hatchery management." Perdue acknowledges it will still use antibiotics where warranted to treat disease.
Why would eggs require antibiotics? Eggs in hatcheries incubate for 21 days in a temperature-controlled environment. On the 18th day, they get a dose of drugs to prevent common poultry diseases. The injections leave a hole in the eggs which have traditionally been treated with gentamicin, a commonly used human antibiotic, to prevent infection. To eliminate the use of gentamicin, Perdue updated its cleaning procedures and other processes to reduce the risk for infection. It began giving laying hens a vaccine to help them pass immunities on to their eggs. And it's experimenting to improve those laying hens' diets to boost overall health and reduce the chances of disease.
"By no longer using any antibiotics in our hatcheries or any human antibiotics in feed, we've reached the point where 95 percent of our chickens never receive any human antibiotics, and the remainder receive them only for a few days when prescribed by a veterinarian," said Dr. Bruce Stewart-Brown, Senior Vice President of Food Safety, Quality and Live Operations for Perdue Foods.
Reaction to Perdue's announcement has been positive, although Paige Tomaselli, senior attorney at the Center for Food Safety, pointed out: "We appreciate Perdue's initiative, but they produce only 7 percent of the broilers produced in the U.S. Other companies should follow suit."
Hopefully, it'll happen.
What do you think of this news? Will it influence you to seek out Perdue's products?
Image credit: Eggs via Shutterstock