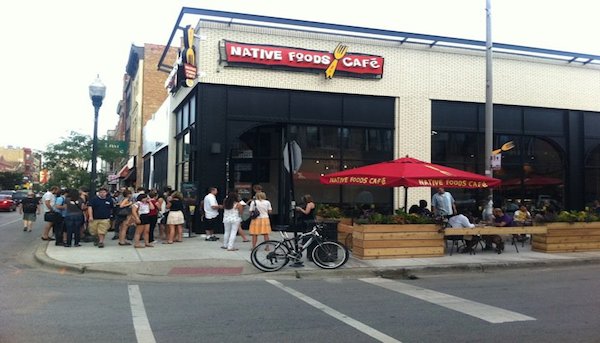 When Chipotle added vegan sofritos to its menu, that was pretty yummy news (as was its recent announcement that its menu is now mostly GMO-free, too). But the chain still serves meat. It pretty much means you have to grab your vegan sofritos or black bean burrito and hightail it out of the restaurant to avoid watching people chow down on chicken, pork and beef, save you ruin your appetite.
But no more.
Now, just after Cinnaholic announced franchise plans for its vegan bakeries, Native Foods Cafe, the Caligornia-based fast-casual vegan chain, has raised a grip of funding–$25 million in 15 months–to open at least a dozen more locations on top of its current roster of 16 (in four states).
"This really accelerates our expansion," Daniel Dolan, chairman and chief executive officer of Native Foods told Chicago Business. "In the second half of the year, we'll open one (restaurant) about every three weeks and by January, we'll start opening two a month."
Native Foods was started in 1994 in Palm Springs, Calif. and was sold to Mr. Dolan and his wife, Andrea McGinty, in 2009.
Dolan told Chicago Business Native Foods wants to open 25 to 30 locations in 2015 and 200 restaurant locations in five years. Yes, you read right. Two-hundred vegan restaurants within the next five years. It could be the Whole Foods Market of vegan restaurants–bringing its reasonably priced menu (nothing more than $10) of healthy, yummy and allergen-friendly foods across the U.S. (in addition to vegan items, many are nut-free, soy-free and wheat-free, as well).
Santa Monica, Calif.-based Veggie Grill, which is similar in style and menu offerings to Native Foods, raised $20 million in funding last year, with plans to double its number of locations and expand to the east coast as well. While vegan restaurants have been popping up all across the country in recent years as part of a major food trend toward plant-based eating, the franchise and chain opportunity signifies a sea change in fast casual dining that's hopefully here to stay.
Image via Native Foods