The startup Plastinova is using recycled plastic and agave bagasse left over from making tequila to produce strong composite lumber.
The company Plastinova is working with two local tequila-makers in Jalisco, Mexico to turn leftovers from making tequila into a composite building material. The leftovers – called agave bagasse – are key to creating this recycled composite lumber that's stronger and more durable than the ones on the market today.
Related: The Great Agave Nectar Debate
Agave bagasse wasn't exactly piling into landfills before Plastinova started working on this new building material, though. Before Plastinova came on the scene, companies were using the organic material to fuel boilers. It took some negotiating to get these tequila companies to sell their agave bagasse to Plastinova, and that's definitely going to impact the finished product's price.
It basically takes three steps to turn agave bagasse into a building material:
They physically remove the alcohol, sugar, bone, and shell, so just the fiber remains.
They dry the remaining fiber, then pulverize it into a powder.
They add a compatibilizing agent to make the powder behave like a plastic and interact well with the recycled plastic.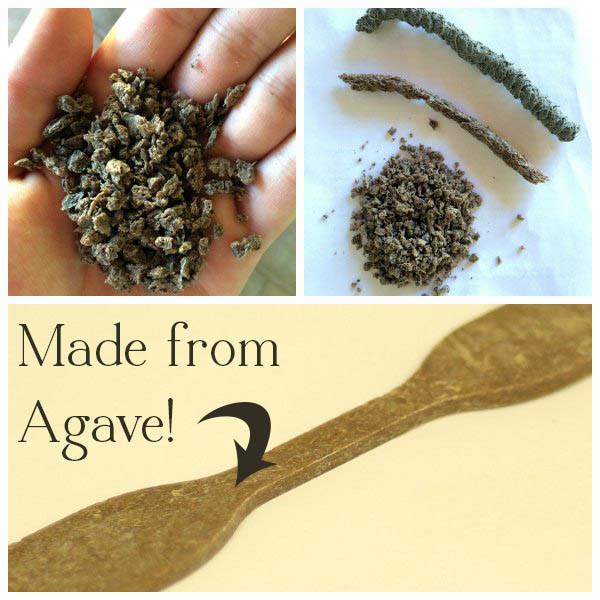 So, if agave bagasse wasn't going to waste, why use it?
The agave bagasse is key to this material, because it's stronger than materials like wheat straw that are in composite lumber currently on the market. Plastinova is paying a premium for agave bagasse, but will consumers pay?
Jeff McIntire-Strasburg at our sister site Sustainablog hipped us to this cool industrial reuse for food waste, and he thinks that they will. Jeff says the fence in his backyard is also made from a recycled plastic composite. This one is mixed with wheat straw. " I know plenty of people love this concept and are willing to pay a premium for materials," he explains. "In my case, a material I didn't have to paint was very appealing!"
This is just step one for Plastinova. The company spent a year testing and developing the leftover tequila lumber, and now they've set their sights on other food waste.  They're now working on how to replace agave fibers with ones from coconut, which they think will provide an even stronger finished product. Before they can start developing the coconut lumber, though, they'll need more investor support.
Along with turning food waste into something useful, this new composite lumber would keep tons of plastic waste out of landfills and replace conventional lumber, protecting forests. Would you pay a premium up front for a sustainable, food-based building material? Would a bonus feature like never having to paint it make it more worth it to you?
Images via Shutterstock and Agencia ID