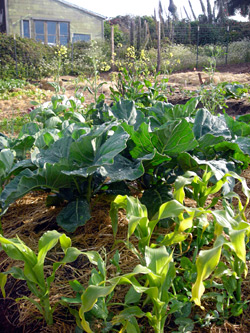 There are many sustainable options when it comes to putting food on the table, from eating organic to choosing locally grown foods to avoiding animal products. But there's nothing quite as truly sustainable, satisfying, and tasty as growing your own organic food. What follows is my homegrown experience in community gardening.
After traveling around in a veggie oil and biodiesel powered "volksvegan" for most of last year, I was eager to have a garden again (not to mention an actual kitchen). It didn't take long in our small town to find a wonderful non-profit organization teaching organic food production classes and get involved. Before long we were starting seeds in a greenhouse, not quite sure where we'd be planting them when they were sprouted. Luckily, the organization, Noyo Food Forest, was just breaking ground on a new community garden, and we jumped at the chance to get our hands dirty and grow some organic food.
Our gardening experience in coastal Northern California has been quite an experiment. After growing up in the hotter and dryer climate of Idaho, gardening on the coast took some getting used to. But we discovered that with some fertile soil, organic seeds, a few helpful people, and the labors of love, we could grow a bounty of fresh organic produce and community at the same time.
Community or neighborhood gardens are an ideal situation for people like my partner and I that don't have ideal garden space at home. Our house in the redwood forest doesn't get much sun, so renting an 8′ x 20′ plot in the community garden just down the road from us worked out perfectly. In addition, we planted kitchen herbs and a few veggies in pots in the few sunny spots in the yard. Seeds were started in Noyo Food Forest's greenhouse and we used a desk under a south-facing window and a small plant light to keep the seedlings happy until May, when we could plant them outside.
Community gardens come in many forms and sizes, depending on the people who organize them. Luckily for us, the Noyo Come-Unity garden we became a part of was just getting started when we moved here, so we were able to be involved in the process from the beginning. Along with other gardeners, we cleared the land, had dead trees cut down, split up and hauled the wood, had a bonfire with the rest, put up fences and gates, planned out a garden design, built compost piles, and dug in. We all decided to have individual/family plots as well as community beds, where we could grow food for the food bank and other local organizations. We share tools, knowledge, ideas, and general garden chores and each maintain our own plots. Once a week, we have work days where we plan and work on the garden together.
We got involved in the process in February. By mid-May, plots had been assigned, and each family weeded and double-dug their beds to prepare the fertile soil. We learned about compost and organic soil amendments as we got ready to plant. I drew up a plan and bought organic seeds for our plot, and then the fun part began. We transplanted broccoli, mesclun greens, bush beans, spinach, and a few beneficial herbs we had started from seed into neat rows. We got other starts at the local farmer's market: corn, cabbage, eggplant, squash, brussels sprouts, asian greens, tomatillo, lettuces, leeks, onions, fennel, and cauliflower. And we started zucchini, cucumbers, radishes, carrots, peas, and green onions from seeds. Using the guidelines of some organic gardening books and the back of seed packages, we filled in the garden, watered it, and waited to see what would happen.
As our garden grew, so did the community garden itself. A tool shed was built, and we dug and planted community beds full of herbs, flowers, beans, peas, squash, zucchini, and greens. We painted signs, laid out paths covered with wood chips, and cleared areas that would eventually be a community food forest. We met new people as more folks got involved, made plans to build a cob oven and kids' play area at the garden, and started planning a drip irrigation system. The garden space went from a bare plot of weeds to a beautiful garden space full of organic food, hope, and love in a matter of months. As it evolves, we learn more and more about growing our own food as well as building community.
Our first harvest from our plot was a large handful of asian greens and a few huge leaves of bok choy. But it was more than a simple salad: it was our first homegrown, completely local, fresh from the garden meal of the spring. It symbolized a lot of hard work and dedication, and it was only the beginning. By June we were harvesting a large salad of mixed greens, spinach, bok choy and radishes every other day. We began re-seeding and filling in the few blank spots in the garden as we harvested. We mulched our plot to conserve water, weeded it every week, and picked fresh produce as we worked. We're now planning for fall and winter crops. The best part was that none of this seemed like work, not even shoveling wheel barrel loads of compost and manure!
As food and transportation prices rise, more and more people are discovering the health and environmental benefits of organic and locally grown food. The natural progression of this awareness is to bring it back home. I am starting to see a resurgence in gardening, and am happy to witness an era when growing your own food is once again becoming popular and even hip. Whether you have a collection of pots on a sunny patio, a backyard, or a community garden to work with, all it takes to start growing your own food is curiosity, a willingness to experiment, and a bit of dirty work. Growing your own is not only a sustainable way to be more self-sufficient, it's a lot of fun. There's nothing quite like that first harvest of fresh veggies picked straight from the earth. So dig in!
Visit Eat.Drink.Better. throughout the year for more adventures in community gardening.
Read more about community gardening