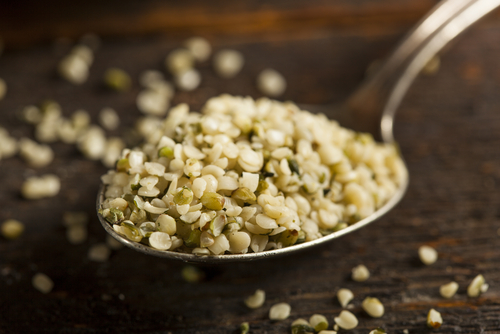 Hemp is for more than making sustainable clothing and twine! Edible hemp seeds are actually a powerful superfood. Here's everything you need to know about hemp seeds.
What is hemp's nutritional profile?
Andrea at our sister site Vibrant Wellness Journal has a great piece on the health benefits of hemp. She says, "Vegetarians and vegans can get protein from a myriad of sources, but hemp seems to be one of the best. The protein found in hemp seeds (or in hemp protein powder) is very digestible and seems to be easier to assimilate than other plant-based proteins."
Hemp seeds are rich in protein and omega 3 and omega 6 fatty acids. They're also a good source of zinc and a very good source of magnesium. A one ounce serving contains 162 calories, 15 percent of your daily iron, and 13 grams of fat.
What's the difference between hemp and cannabis seeds?
The big difference between hemp and cannabis seeds is that you can't use hemp seeds to grow marijuana. Hemp seeds grow – you guessed it! – hemp. Unlike cannabis, hemp contains only trace amounts of THC. In fact, many hemp seed manufacturers now take what's called the TestPledge. This is a program that verifies hemp products. It ensures that hemp seeds, oils, and other hemp products don't contain enough THC to show up in a drug test.
The trace amounts of THC in hemp are nothing to worry about. Think of it like the trace amounts of opioids in poppy seeds.
Where can I buy hemp seeds?
You can find hemp seeds in a lot of natural food stores. Whole Foods sometimes has them in their bulk bins. If you want to save a buck, definitely try to track these down in bulk. If you're having trouble finding hemp seeds locally, you can also buy them online.
Although hemp and cannabis seeds are a bit different, some folks do cook with cannabis seeds too. Hemp and cannabis have a similar nutritional profile. If cannabis seeds are what you're after, there are now legal places to obtain them if you live in a place where marijuana is legal.
How should I prepare hemp seeds?
Hemp seeds give food a mild, nutty flavor. You can sprinkle them onto your oatmeal or into smoothies for a quick nutrient boost. Here are some other hemp seed recipes to try:
Hemp Protein Bars
Creamy Almond-Hemp Dressing
Hemp Cookies
Mix it into your Homemade Granola
Do you have a favorite hemp seed recipe? Tell us about it in the comments!
This post was sponsored by Zamnesia, hemp seeds photo via Shutterstock.