Love vegan food and summer? It's the perfect time to make the best of both worlds. Here are 99 vegan food-related things to do this summer.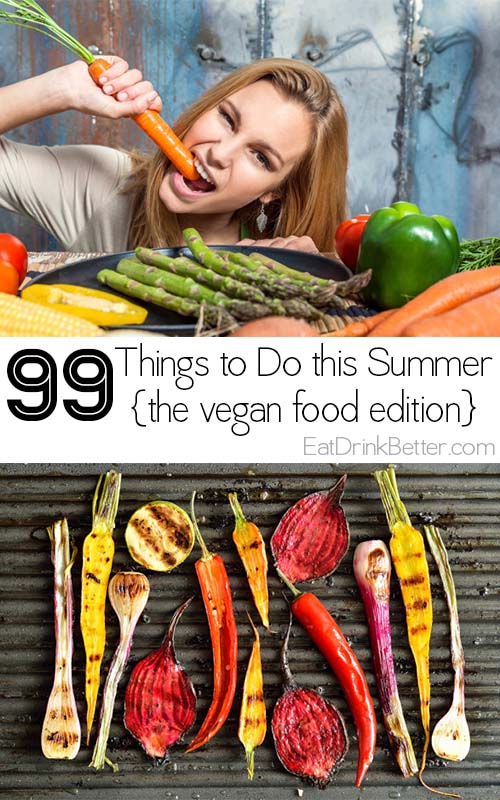 Summer is essentially here and that means longer days and of course, a lot more time to eat vegan food. It's the perfect time to experiment with recipes and make food appreciation a part of every sun-filled day. If you're looking for things to do this summer, we have some humble, food-related suggestions.
The vegan diet helps eliminate CO2 from the environment, decreases our use of water for agriculture, contributes to improved health and eliminates needless animal suffering.
So, this summer, celebrate vegan food in as many ways as you can! Here are 99 delicious ideas.
1. Make seitan.
2. Make seitan kebabs on the grill.
3. Make homemade bean salad.
4. Bake a fresh fruit cobbler.
5. Share it with your neighbor.
8. Use olive oil, vinegar and your homemade mustard to make salad dressing.
9. Eat a salad for breakfast.
10. Grow some tomatoes.
11. Grow arugula.
12. Grow herbs.
13. Oven roast radishes.
14. Make zucchini fries.
15. Juice fresh beets.
16. Pickle something.
17. Make chia porridge.
18. Read a book about food (not a cookbook).
20. Host a vegan brunch (but just call it "brunch").
21. Brew sun tea.
22. Vegan s'mores.
23. Vegan strawberry shortcake with coconut crème.
24. Make a huge batch of fresh gazpacho.
25. Grill shishito peppers.
26. Visit a farmers market.
27. Make your own vegan ricotta.
28. Avocado toast for dinner.
29. Vegan pumpkin seed pesto.
30. Make herbed olive oil.
31. Go on a picnic.
32. Make tabouli.
33. Use phyllo dough.
34. Roast eggplant and make baba ganoush from scratch.
35. Eat pistachios and peaches for lunch.
36. Roast fresh figs.
37. Grill watermelon.
38. Juice watermelon.
39. Eat watermelon.
40. Make veggie burgers from scratch.
41. Make a lentil salad.
42. Make lettuce wraps.
43. Date night: vegan nachos.
44. Make tofu 'egg' salad.
45. Eat a whole tomato like it's an apple.
46. Make a cherry pie.
47. Make a raspberry pie.
48. Make a bean dip.
49. Eat more raw carrots.
50. Make your own almond butter.
51. Stuff zucchini.
52. Make a cold barley salad.
53. Grow organic corn.
54. Make corn fritters.
55. Make biscotti.
57. Make vegan nutella.
58. Bake a baguette.
59. Smear it with your homemade nutella.
60. Try purslane.
61. Vegan sorbet.
62. Vegan sushi.
63. Make limeade.
64. Make kale chips.
65. Eat nutritional yeast on popcorn and watch a foodie documentary.
66. Make croutons.
67. Bake a vegan quiche.
68. Make vegan french toast and serve the man in your life breakfast in bed on Father's Day.
69. Use coconut sugar.
70. Try maple water.
71. Eat a whole cucumber.
72. Grill a vegan pizza.
72. Eat an artichoke.
74. Make vegan tamales from scratch.
75. Ferment your own kombucha.
76. Or vegan yogurt.
77. Make a peach compote.
78. Eat sorrel.
79. Grill cauliflower.
80. Make a kale salad.
81. Pickle kale stems.
82. Eat breakfast outside.
83. Bake someone a tarte.
84. Get a juicer.
85. Make a green juice.
86. Eat raw chocolate.
87. Make raw chocolate truffles.
88. Make your own pretzels.
89. Grind your own flour.
90. Volunteer at an animal sanctuary or shelter.
91. Cold brew coffee.
92. Make fresh hemp milk.
93. Make your own creamer.
94. Make your own tofu.
95. Use more parsley.
96. Make vegan ice cream.
97. Make buffalo cauliflower 'wings'.
98. Brew vegan beer.
Woman eating vegetables and grilled vegetables images via Shutterstock