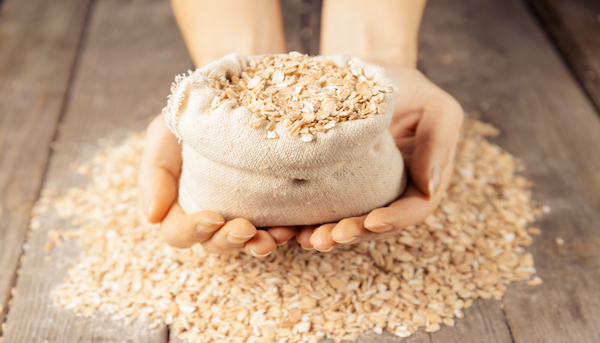 We all (hopefully!) know by now that oatmeal is good food. It's loaded with heart healthy fiber and beta glucan, the polysaccharide that has a multitude of benefits to our body. Oats are also a source of omega fatty acids, vitamins, minerals and avenanthramides, antioxidants that promote circulation.But guess what? Oatmeal can do lots of other things. Intrigued? Here are 9 uses for oatmeal that go beyond breakfast.
Uses for Oatmeal
1. Treat acne: Apply unsweetened plain cooked oatmeal to pimples and blemishes. Leave on at least 20 minutes or over night and then rinse or repeat as needed.
2. Treat dry, irritated skin: Add one cup of rolled oats to a warm bath to soothe rough skin, eczema, burns or stings. It's great for poison oak or ivy as well.
3. Make a soothing skin mask: Like spot-treating your problem skin, give your whole face a refresh with an oat mask. I like to grind up rolled oats, mix in a bit of apple cider vinegar and bentonite clay until it's pasty and let it dry for about 20 minutes.
4. Make a skin scrub: The rough grain of oatmeal also makes it an ideal exfoliant skin scrub. Give rolled oats a quick rough grind (use a coffee grinder) and then mix with a nourishing oil such as almond, apricot kernel or even olive oil and give your heels, elbows and the rest of your body a good soothing scrub.
5. Pamper your pooch! If your dog is suffering from a sting, mange or another skin condition, you can bathe them in oats just like humans.
6. Run out of baking soda? Put a dish of raw oatmeal into your fridge or freezer to soak up the stink.
7. Use it in kids' crafts: Make your own Play-doh with oats, flour and water; glue raw oats to paper to add texture to drawings or paintings.
8. Calm yourself: Oatseed has potent calming effects and is available as an herbal tonic or tincture that can be used to manage stress and help with sleep.
9. The veggie burger secret ingredient: Beans + veggies + oats = the best veggie burger in a pinch. Just mix about 2 cups of your cooked bean of choice, ½ cup of cooked veggies and about 1/3 cup of ground oats. Add liquid or more oats as necessary to get the right consistency. Season as desired and fry on medium low heat in an oiled skillet for 3-5 minutes per side.
Oats image via Shutterstock