It has been quite a scorcher around here lately, and nothing is as good in warm weather as big, healthy summer salads.
For many years, I struggled with body image and food issues, and one of the things that helped me stop with crazy dieting and love my body the way it is was focusing on eating healthy, real food, rather than on counting calories. These healthy summer salads are a perfect intro into whole foods eating: they're easy to make, delicious, and seasonal.
My weight used to fluctuate wildly as I'd crash diet, then "reward" myself with processed junk food. Then, I'd start all over, counting every calorie and obsessing until my dress size went down to whatever I'd decided was good enough.
When you're eating fresh fruits, veggies, whole grains, nuts, and other unprocessed plant-based foods, there really isn't any need to worry about every spoonful. And the best part? Once you get into the swing of eating this way, those processed snacks won't appeal to you as much. You'll feel better, have more energy, and can ditch the crash diets!
Ready to stop the crash dieting and start eating real food and feeling great? Here are some healthy summer salads to get you started!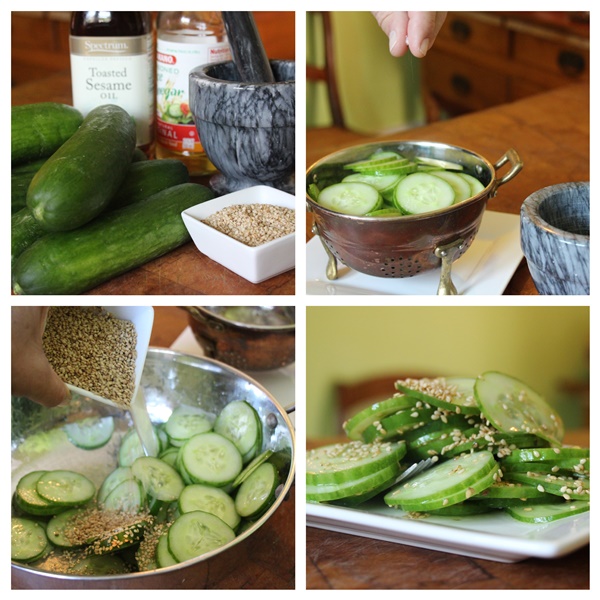 9 Healthy Summer Salads
1. Asian Cucumber Salad – This is a great side dish. Serve it up with some baked tofu and whole grain Asian noodles, like soba.
2. Sprout Salad – A hearty bowl of sprouts makes a yummy summer meal.
3. Kale Salad with Walnuts and Shallots – I serve this up as a main dish or as a side with some beans and rice. Yum!
4. Raw Broccoli Slaw – Cole slaw, schmole slaw! Serve up this healthy dish as a side next time you're grilling.
5. Herbed Cabbage Slaw – Cole slaw, I'm sorry for what I said. This recipe features an herb dressing without a drop of mayo in sight!
6. Kelp Noodle Salad with Homemade Peanut Dressing – You can find kelp noodles at Whole Foods or online. They have a neutral flavor and make a perfect base for a quick salad. No cooking required!
7. Broccoli Cous Cous Salad – This is another salad that can work as a side or a main dish. Hearty cous cous and chickpeas make this filling without any processed ingredients.
8. Vegan Dill Pesto Potato Salad – Who says potato salad has to be covered in gloppy mayonnaise? Try this flavorful take instead!
9. Arugula-Cous Cous Salad with Lemony Herb Vinaigrette – If you've never had arugula, you're in for a treat! It's a tender salad green with a spicy bite.
Do you have a healthy summer salad recipe? I'd love to hear your favorite in the comments!