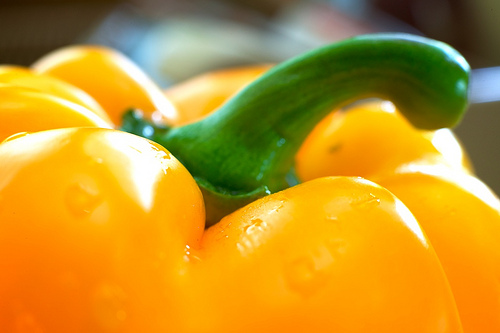 With peppers, along with many other vegetables in season now, it can be a daunting task to use everything in your garden before it starts to go bad. Try these 7 ways to use your bell peppers so you don't waste your yield this year!
Peppers bring many good qualities to the table. Depending on your cooking method, they are fantastically crunchy or soft and juicy. Spicy or sweet, they always bring vibrant color to any dish. Peppers are high in vitamin C which helps with immune function, healing and cancer protection. Here are 7 ways to enjoy your peppers this season:
Stuffed peppers: This can be a vegetarian/vegan or omnivore dish. Mix together ground protein with onions, garlic, tomatoes, bread crumbs and spices and stuff your hollowed out peps. My vegetarian version contains tempeh instead of ground meat; the texture is almost identical and the flavor is delicious.
Roasted pepper hummus: Roast your peppers in the oven until tender. Remove tops and seeds. Add to blender/food processor when making your next batch of hummus. Red peppers add the best color.
Grilled cheese and pepper sandwich: Roast slices of pepper and add to your favorite grilled cheese sandwich. Spicy cheese is my favorite with this dish.
Peppers and dip: The classic after school snack–fresh peppers cut into strips with healthy ranch dip or hummus.
Fresh chopped salsa: Diced peppers can add crunch and color to your homemade salsa.
Garnish: Sounds silly, but sometimes you make a dish that is lacking color or texture variety. To make your meal more appealing add diced or sliced pepper to the plate for visual appeal.
Chili: The fall weather is creeping around the corner in Michigan (no lie!). Chili is the perfect dish to get rid of an overabundance of peppers. You can add sweet or spicy peps to add flavor and color.
Have a interesting way to eat your peppers? Want to share a recipe? Comment at the bottom!
Image credit to creative commons user: Denim Dave