Need a reason to eat some delicious fall pumpkin? Here are six of them!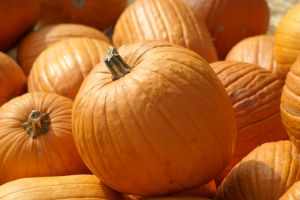 One of fall's brightest crops can also be a bright spot in your diet. Dr. Helen Lee of Chicagohealers.com outlines the health benefits of nutrient-rich pumpkins, giving you six great reasons to indulge in pumpkin pie, seeds, soup or other pumpkin dishes. For an extra eco and healthy twist, choose organic pumpkins canned or whole.
1. Pumpkins provide a healthy dose of vitamin C and E, immune-boosting zinc, potassium and magnesium, all of which help support organs including your kidneys, bladder and prostate.
2. They also boast beta and alpha carotenoids, antioxidants that can help prevent cell damage.
3. Pumpkins are high in protein, especially the seeds–one ounce contains about seven grams of protein.
4. The orange food helps support healthy eyes thanks to lutein.
5. You'll also get a helping of essential fatty acid oils.
6. Pumpkins help the body get rid of unwelcome digestive inhabitants like parasites.
Photo by naneki on Stock.xchng.com