Food packaging is an often unsung part of our food waste problem, but these grocery stores are trying to change that by changing the way we shop for food.
When you think about buying groceries like rice, dry beans, spices, and veggies, what do you see? Rows of bags and boxes, if you're at most conventional grocery stores, right? Food and packaging waste go hand-in-hand at most grocery stores. For example, check out this photo I snapped at a Publix in Oveido, Florida this weekend: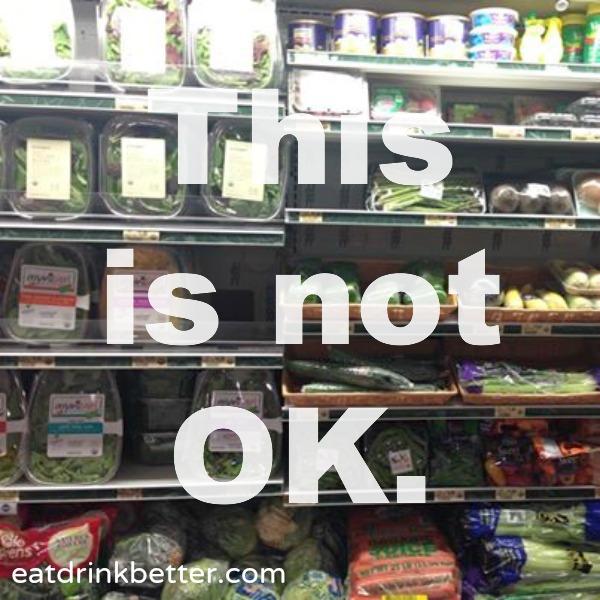 Yes, those are individually wrapped green peppers on the top shelf. And every single item is wrapped in plastic and/or styrofoam.
Zero packaging grocery stores like the ones listed below want to turn that picture on its head. They offer everything from produce and dry goods to soap and shampoo in bulk bins. You can bring your own reusable containers or borrow one of theirs.
When I was researching this list, I was pretty bummed that I was only able to find six zero packaging grocery stores worldwide. If you know of others, I hope that you'll tell us in the comments below!
6 Zero Packaging Grocery Stores
1. Original Unverpakt – Berlin, Germany
This is the newest zero packaging grocery store on this list. It's opening up later this summer after overwhelming support on its crowdfunding project.
2. In.Gredients – Austin, TX
In.Gredients was one of the first zero packaging grocery stores in the world and the first in the U.S.
3. Unpackaged – London, UK
Sadly, this zero packaging store closed after less than a year, but you can still sign up for their email list to keep up with the Unpackaged Project.
4. Simply Bulk Market – Longmont, CO
This Colorado bulk grocery store even offers pet food in bulk!
5. Granel – Barcelona, Spain
Granel translates to "in bulk." This store focuses on reducing waste and on reducing cost for customers. When you can buy as little as you need, you can eat healthier food on a smaller budget.
6. Effectora – Capannori, Italy
Not only is this a zero packaging grocery store, but 80 percent of the products on its shelves come from within 45 miles of the stores. Boom! Pow!
Reducing Waste at Regular Grocery Stores
Of course, even if you don't have a local zero packaging grocery store, you can reduce the packaging waste when you shop.
If your grocer has bulk bins, bring light cloth bags and skip the plastic waste. If they don't have bulk bins or the state of affairs is as bad as at the Publix above, talk politely to the store owner. Grocery stores want to give customers what we want. Sometimes we just have to let them know what that is.
Are there any zero packaging grocery stores in your town? Let's flesh this list out in the comments, y'all!