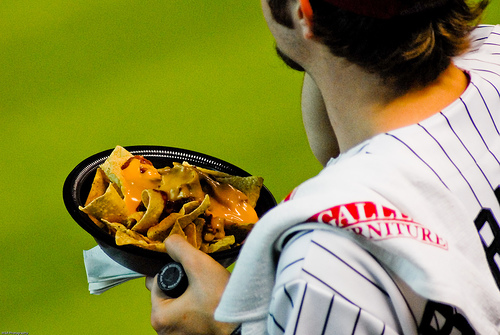 It's time to get ready for baseball season, and that means one thing for sure: food!
Unfortunately, ballpark food is often the unhealthiest of all, yet it can be so hard to resist. After all; it's a baseball game and you are supposed to have fun and eat hot dogs, pizza, and Cracker Jacks! That $7 freshly-squeezed lemonade seems innocent enough, right? It's innocent until you realize it is a whopping 300 calories of lemony goodness. Here are tips to enjoy the game while staying healthy!
Tip #1: Bring Your Own

Some ballparks still allow you to bring a small cooler through the gates, so take advantage if that is the case. You can pack some food and healthy snack items, as well as non-alcoholic beverages. What's that? You can't enjoy the game without an $8 beer or two? There's no problem with that, but having non-alcoholic choices with you will allow you to alternate between beer and water or juice. You will stay hydrated better and make better snacking decisions.
Tip #2: Go Nuts
Stay away from those ballpark roasted peanuts! Ballparks tend to serve oversized portions, and one cup of nuts has nearly 900 calories. What's a better idea? Try boiled nuts instead. One cup is about 550 calories, which is still a lot, but boiled nuts are packed with more than ten times the antioxidant flavonoids as roasted peanuts. If you do go for the roasted peanuts, split them with a buddy.
Tip #3: At Bat
Although not available at every stadium, avoid fried junk by taking advantage of the "At Bat" application if you can. Nearly half of all stadiums now serve sushi, and the At Bat app allows you to have it delivered right to your seat.
Tip #4: Look for Light Fare
Many stadiums have adopted a green culture, from recycling initiatives to solar panels installed on light towers. They are also offering fans healthier eating choices, including vegan and vegetarian offerings. Yes, you may have to work a little harder to find it, as it's usually a single walk-up counter located in the furthest corner of the concourse, but change takes time, and it's a good start.
Tip #5: Skip the Buffet
Unfortunately, many stadiums are counteracting these healthier options with one that's completely unhealthy: more than half of all stadiums now offer a special seating section where your ticket price includes an all-you-can-eat buffet area. Avoid this unhealthy pitfall by purchasing a regular seat instead. You'll save money and eat healthier!
{Photo Credit: Creative Commons photo by M Glasgow}