What if there was an event that brought together the greatest doctors, nutritionists, writers and activists in the good food movement? What if it was free? Welcome to the 2016 Food Revolution Summit!

The 5th Annual Food Revolution Summit is hosted by father-and-son team John and Ocean Robbins. The virtual event has just opened for registrations. The Summit is happening April 30 – May 8, 2016, and it's free to attend online. If you're interested, click here to reserve your spot. And if you're here on Eat Drink Better, you're probably going to be interested in the 2016 Food Revolution Summit!
Why attend the Summit?

John and Ocean created the Food Revolution Network and the Summit to help explore our changing food system and how what we eat can literally change the fate of our family, our community, and our world. John writes that the virtual summit allows you to be a part of the change towards a healthier world. Let the summit arm you with the information you need to get involved and be the change.
2016 Food Revolution Summit Lineup
Check out the list of great speakers at the 2016 Food Revolution Summit. You'll recognize many of these names, because we've written about or featured their work in the past and they're experts in their fields. Some of the interviews I'm most excited about include:
Dr. Michael Greger: My go-to source for medical and nutritional information, Dr. Greger sources medical journals and distills down vitally important health information in engaging and often hilarious videos on his site, NutritionFacts.org.
Marion Nestle: An author, nutritionist, and prolific blogger, Nestle is an outspoken critic of our food system. Nestle has been working for decades to shed light on national food politics, whether she's fighting for healthier food guidelines, fighting Big Soda, or helping us navigate food politics generally.
Ron Finley: 'Gangsta Gardener' in South Los Angeles, Finley has been an amazing activist for food security and urban gardening in low-income areas. He's a true revolutionary, helping to bring healthier eating to overlooked or marginalized communities around the country.
Robyn O'Brien: One of the loudest and most articulate food activists of our time, O'Brien is my go-to news source when it comes to updates on the GMO and food allergy fronts. Her famous statement– "are we allergic to food or what's been done to it?"– has been a rallying cry for parents and caregivers who are concerned about all the dangerous and allergenic ingredients in our food system. As an industry insider, O'Brien seems to have the ears of the food industry and is definitely an activist to watch in the coming years.
Vandana Shiva: I'm going to be full fan-girl here and say the Dr. Vandana Shiva is one of the most important voices in the food movement, especially for indigenous and community sovereignty of food. Shiva is an outspoken critic of biopiracy and GMOs, and she's a huge proponent of seed-saving and grassroots activism.
How do you attend a virtual event?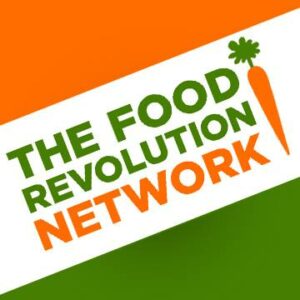 During the 2016 Food Revolution Summit, John Robbins will conduct 24 highly focused, 30-45 minute interviews with their brilliant panel of experts. On each day you can hear three interviews broadcast live or on 21 hour replay. And it's all free.
If you miss a presentation during that time window, you can find recordings, transcripts, and many other resources as part of an optional upgrade package for $67. You can find this extra package once you register for the free summit.
I'm looking forward to learning more from these experts and hope that you find it interesting and helpful as well. And if you're not interested in the Summit or just can't make the time for it now, you can always find free resources, recipes, and news at the The Food Revolution Network.