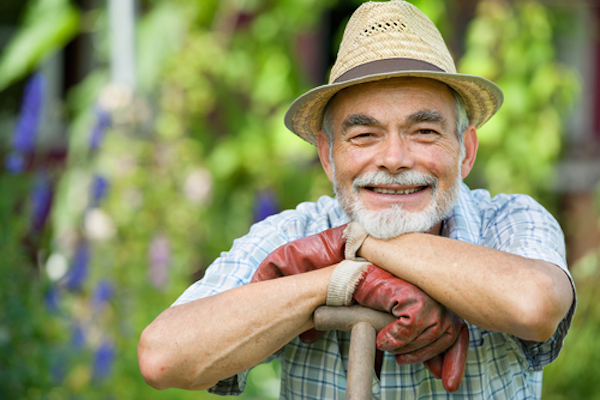 Welcome to the 15th Annual National Farmers Market Week!
It's time to renew your commitment to the growers in your community. Why? USDA's web site states it perfectly:
Farmers markets connect and unite people living in urban and rural environments, provide access to fresh, healthy and delicious foods, and—best of all—put a face to the farmers and ranchers who produce their wonderful wares. We, in turn, can support farmers and local communities with our purchases.
Here are 4 ways to celebrate your farmers, get some awesomely fresh, local food, and eat healthy — all while having a jolly good time.
1. Get thee to your local farmers market.
The number of farmers markets continues to grow — up 76% since 2008. This year, more than 8,000 farmers markets are listed in the USDA Farmers Market Directory, and you know there's one near you. This weekend, go there and pick up some fruit, vegetables, fresh bread, and/or local, grass-fed beef. Let the folks behind the table know that you know this week is all about them. They'll appreciate that (and maybe throw in an extra cucumber or two). Nice.
2. Sign up for a CSA share.
Keep the farmer love going year-round by signing up for a share of one of your local Community Supported Agriculture (CSA) programs. Every week or month, you'll get a lovingly packed box of seasonal produce delivered to your door or available for pickup at a nearby location. What a treasure chest that will be! Search LocalHarvest to find a CSA near you.
3. Try a few new recipes.
At Eat Drink Better, we have some fantastic vegetarian and vegan writers who have shared amazing recipes with our readers. Here are a few collections you may want to check out for ideas to highlight your crazy-fresh, delicious farmers market produce:
4. Inject some farm humor into your day.
I can't resist throwing in a fun farm-based video — this one revealing what's on one herd's playlist. Truly cute. Take a look and smile the rest of your day away.
Need more ideas? Check out last year's post: 5 Festive Ways to Celebrate National Farmers Market Week.
Happy National Farmers Market Week! What will you do to support your local growers?
Image Credit: Happy Farmer via Shutterstock