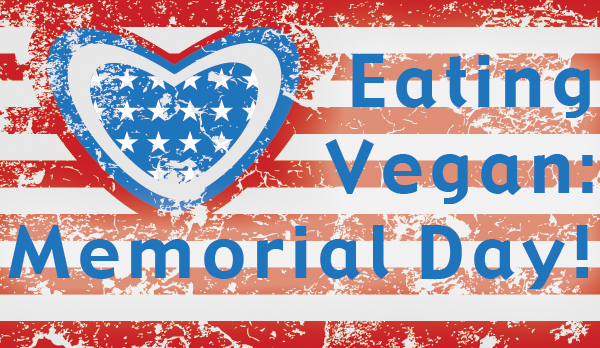 Memorial Day is coming up, and for most folks, that means firing up the grill. If you're not used to plant-based cooking, it might be hard to imagine grilling without a slab of meat, but there are lots of ways you can cook up veggies on the grill!
Of course, I'd love to see folks totally eschew the animal products on Memorial Day, but if you can't stomach a totally meatless Memorial Day meal, you can at least go meat-light by incorporating some plant-based recipes alongside the more conventional food you'd serve at a cookout.
Even just cutting back on the meat can make a big environmental impact, and if you choose to serve less meat, you can also spend a bit more to get meat that's raised in a less environmentally detrimental way, since veggies are a lot more budget-friendly. Yay for saving money, helping the planet, and eating a bit healthier!
On the Vegan Grill
Make a little room on the grill for these tasty, plant-based recipes:
1. Classic Veggie Burgers – you can buy these pre-made, just check that ingredients list! Some brands, like Morningstar Farms, are full of mystery ingredients, but you can find frozen veggie burgers that are pretty healthy, too. Sun Burgers are a good brand, if your grocery store has them. Of course, you can also make your own veggie burgers, too!
2. Grilled Portabellas – I like to marinate my 'bellas in store-bought salad dressing, like Annie's Sesame Vinaigrette. It saves so much time! Or, you can check out Tanya's grilled portabella mushroom recipe right here (#6 on that list).
3. Grilled Eggplant – Just like portabellas, sliced eggplant is perfect for the grill! You can slice, marinate, and grill for 3-4 minutes per side on high, or get fancy with these grilled eggplant stacks instead.
4. Maple-Chili Grilled Tofu – Tofu cooks up beautifully on the grill, and this grilled tofu topped with fruit salsa is such a crowd-pleaser!
5. Kebab It – Skewers are a pretty classic grilling staple, and veggie skewers are super delicious. The best part? You can really use whatever veggies you have handy! I like to combine mushrooms, cubed pineapple, onion, and tomato. Just brush with a little oil and vinegar, and grill for a few minutes on each side.
Plant-Based Sides
No cookout is complete without some delicious side dishes. Here are a few yummy sides that are perfect for completing your cookout:
6. Dill Pesto Potato Salad  – Sure, you can make a plain ol' potato salad vegan by choosing vegan mayo instead of the egg-based sort, but this dill pesto version is seasonally delicious!
7. Grilled Tomatoes – Take Mary's advice and make a super yummy grill pouch with fresh tomatoes and veggies. Get the details here (under "Slice 'Em").
8. Kale Salad – Instead of a boring lettuce-based salad, try Scott and Andrea's amazing raw kale salad. Raw kale might sound kind of weird, but it's all about massaging and marinating – the marinade breaks down the tough, raw kale and makes it the perfect texture!
9. Macaroni Salad – I have nostalgic feelings about macaroni salad – we had it almost every time we cooked out when I was growing up, but macaroni salad usually has an egg-based mayo base. Jessi shares a super yummy recipe for classic macaroni salad with no animal products in sight!
10. Grilled Fruit – There is something so special about fruit hot off the grill. You can grill so many different things: pineapple, plums, or whole skewers of fresh fruit. Need some fruit grilling inspiration? How about some sweet grilled peaches?
Do you have a favorite vegan recipe for the grill? Tell us about it in the comments!
Image Credit: Memorial Day Recipes photo via Shutterstock